Get real! Think of it as a mantra. From the days of fireside storytelling, we've refined the art of authenticity to engage audiences. Making it believable is a craft on display in camera as much as behind the scenes, where budgetary and scheduling realities compel producers to scan the globe. They seek alternative filming locations and incentives that amount to the best approach for a given project. It takes a filmmaking artisan with a shrewd eye for the bottom line to strike the right balance. PSN and its Partners facilitate their research and filming worldwide.
Succession patriarch Brian Cox looks right at home in Warsaw for the Santander bank commercial our PSN Poland team recently executed as if in New York City. In a parade of pink that barely predates the release of Barbie, there's movie magic in Paris for L'Oréal – with a reveal to keep it real – made possible in Miami for Camila Cabello thanks to film support from the team at PSN Florida.
Filmmakers tapping into the world of alternatives presented by PSN Partners often double down on the believable. The PSN Spain team facilitated the filming of Madrid airport customs as a double for Dubai in Idris Elba's latest thriller, Hijack, for AppleTV+.
Producers of Kira & El Gin, the movie amassing the highest revenues ever in Egyptian cinema,  worked with our PSN Croatia team to recreate historic Istanbul in times of conflict with colonial Britain.
Suspending reality – in time as much as place – is a delicate craft in the authentic portrayal of real people and events.  But there is latitude for creativity that still feels like the real deal. The team at PSN South Africa leaned into actual locations to craft a biopic that won the Audience Choice Award at Tribeca last June.  Rise: The Siya Kolisi Story relates the life story of the first black man to captain the South Africa national team and lead them to the 2019 Rugby World Cup Final victory over England.
PSN service company Partners have also helped keep it real, and engaging, for contemporary feature films like Ron Howard's Thirteen Lives in Thailand and period biopics such as The Drover's Wife in Australia, and Kardec in France.
FROM THE DIRECTOR'S CHAIR
Reaching into the depths of our real world to lens a father-daughter duo protecting their rainforest homeland, director Adu Lalouschek had the "true privilege of an unforgettable experience". The PSN Brazil team facilitated his crafting this Samsung Voices of Galaxy film in the Amazon.
"I love working with real people because I find their performances so unique and often unexpected," Houghton recent told editors of LBB. "My role in the process is to understand how their own personality applies to the role I'm casting them for. Once I understand who they are and what they bring to the character they're casting for, I can then help shape their performance in the direction we need for the film. I applaud individuality and love being inspired during this process."
Our PSN Partners have connected foreign filmmakers to real people in their territories to execute a number of brand films propelled by authentic stories. The range includes portraits featuring a jungle engineer in Colombia for Corona, a Munich city surfer for Canon, a free climber in Greece for Toyota, winter paralympians in Italy for Citibank, undiscovered musicians in Malaysia for Tiger Beer, a skateboard photographer in Sweden for BMW, an elderly lady race car driver in Ireland for Renault, an extreme surf photographer in Norway for Lufthansa, a tailored wool garment maker in Argentina for Dormeuil, a Jordanian still photographer lensing his homeland for Nikon, and a remote holiday family reunion for a Michelin-star chef connecting Mexico and New York for Stella Artois.
Through it all there is a need to balance authenticity with storytelling that Houghton experienced up close and personal when directing his Yindjibardi stories project.
"Filmmakers have a huge role in preserving knowledge, but we must ask ourselves if we are preserving it in a way that makes it digestible," acknowledges Houghton in LBB. "I think we can gain even more interest in our culture if we present it in a way that the next generation wants to learn from. Is it shareable, does it connect with our audience?" 
NEW AUDIENCES IN NEW TERRITORIES
Mindful of how historical narrative shapes global perceptions, Saudi Arabia's fast developing interest in film production led to National Geographic Channel tapping our new Partners in the country to work with Belgium directing duo Norman Bates to produce The Ancient City of Dadan for its documentary series Lost Treasures of Arabia.
Authenticity of place is no less important to commercial productions like the American Express membership campaign shot with our new PSN Partner in Indonesia.  "We worked with Josh and his team for 10 days of long hours, unpredictable weather, heavy travel and most importantly, good vibes", recalls Flint Productions producer Rachel Rider. "Their knowledge of the local film/photography landscape is a must for any production heading to Indonesia for a shoot."
TRUE TO OURSELVES OFF SCREEN
Underpinning our local worldwide work with filmmakers is a genuine movement toward sharing and implementing sustainable production practices on location. We're honored to have contributed to the global knowledge collected by @GreenTheBid for preparation of The Complete Green Service Company Production Manual and take the stage at the World  Producers Summit during Cannes Lions International Festival for Creativity last June to announce its launch. Stay tuned for the online publication of a live map sharing sustainable filmmaking resources worldwide.
Recent industry events brought us together with our creative industry colleagues for authentic face time that is refreshingly removed from the 24/7 churn of our online world.
Cannes Lions is where PSN Partners based in three continents – from Colombia to Vietnam – gathered to discuss the state of the industry. Comparing our recent experiences with foreign filmmakers helps identify ways we can make it easier for them to opt for the authenticity of filming abroad.
The always popular beachside venues at Cannes Lions drew throngs to the sands of the Croisette. The latest PSN commercials compilation reel debuted there at the Shots Party.
Only a month earlier, at Cannes Film Festival, we attended a host of industry panels, welcomed our guests dressed to the nines for the Producers Without Borders dinner, mingled at The Members Club where fellow PGGB members congregate seaside, secured a golden ticket to the legendary PJ party, sharpened our chopstick skills at K-Movie Night, toasted to Stage32 reaching the milestone of 1 million members, and shared a red carpet with our film commission friends at AFCI, AFC-Net, EUFCN, and LAFCN.
We were especially pleased to see the Global Production Awards at Cannes grant top honors to Supervising Location Manager Harriet Lawrence and the crew behind the AppleTV+ series, The Essex Serpent. The series won Outstanding Use of Locations in a Film or TV series and a high commendation for Sustainable Production. No better way to demonstrate the two can be achieved with a singularly focused crew.
On the other side of the pond our US Production Liaisons + UK & USA Partners joined the celebration of commercial film craft at AICP Week in NYC. There was also The One Show not to be missed. Despite a year of nervous advertisers starting and stopping productions at a global scale, we're pleased to have recently facilitated the filming of US producers in more than a dozen countries on 5 continents.
We were equally delighted to mix and mingle with location managers, studio/streamer executives, and film commissioners at AFCI Week in Los Angeles. A sizzle reel of recent film and TV projects serviced by PSN Partners debuted before a packed house at the Physical Production Power Brunch.
Conversations held amidst news of industry belt-tightening measures pre-dating the strikes put us on alert to the Hollywood shutdown and prepared us to lean into work in territories and genres where cameras continue to roll.
No sitting still in the months ahead. Get-togethers with industry colleagues on three continents before year's end promise to keep us on the go and at the ready. We're keeping it real off screen to facilitate the on-screen authenticity best achieved by filming abroad.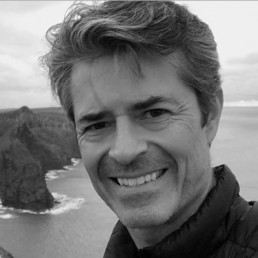 Production work on commercial, long form, and factual shoots for clients from around the world during three decades is at the core of Michael's experience. Highlights from his years managing production service budgets of all sizes for feature film, sport celebrity shoots, primetime TV programming for all major US & UK channels, and events as diverse as motocross and a papal visit.
This Los Angeles native with a traveler's soul started his own production service company overseas to share with fellow production professionals the wonders of shooting film, photo, and video projects across Spain and Portugal – the sunniest corner of Europe. Michael is as quick with a smile as he is committed to no-nonsense production workflow delivering cost-effective, quality results you can see in frame. He founded the Production Service Network in 2014 to accomplish that worldwide. He manages PSN from his base in Madrid in Spain, Madeira in Portugal, or most anywhere he has an Internet connection.