The multitude of green production measures illuminating the path to sustainable production are like stars in the nighttime sky. We marvel at their individual sparkle, but much like constellations, they shine brighter, and mean more to us all, when connected with common purpose.
For as much as neutralizing our carbon footprint depends on local initiatives from the bottom-up, it is top-down policies put into practice that can best spur widespread impact. Pledged to decarbonize its business and reach net-zero carbon by 2040, consider how well Amazon is walking the talk by replacing diesel generators on its film & TV sets with cleaner energy batteries. When celebrating the increasing number of Brands and Agencies aligning with @GreenTheBid principles geared toward sustainable commercial production, GTB Founders are encouraging those who pay to lead the way.
The green-minded messaging is clear in recent advertising campaigns like those produced with the teams at PSN UAE for BMW and PSN Spain for Burberry. But the best of intentions are not always enough to bridge a disconnect between the sustainable development goals of brands and the pervasive "make more for less" mentality cost-controllers pressure producers to achieve with every production. Why else would some commercial producers opt out of a "sustainable practices" budget calculation or line-item allowance standardized in the AICP bid form used by many PSN Partners? Brands and agencies can match their creative crafting of sustainable messaging with commitment to allow for an additional 1% of the production cost @GreenTheBid estimates to produce sustainably. There's opportunity here for brands to empower producers to channel work toward the production and service companies applying best practices to contain the production carbon footprint.
Those prepared to pay determine how green we will play in the production trenches. Dara McClatchie at PSN Ireland acts with accountability. "We're actively working with trained sustainability coordinators to measure our carbon footprint using the AdGreen calculator – you can't manage what you don't measure!  We endeavour to look at all areas through a sustainability lens. On our recent job for An Post, for example, our facilities suppliers used HVO for their gennies (veg oil); we utilised shared unit buses rather than individual vehicles; no single use plastic was used; 100% compatible catering supplies and caterers used locally–sourced seasonal ingredients as a default."
Sustainable production practices are in the DNA of our PSN Spain Partner. Dentsu Creative Director Kenji Yokokawa came to appreciate that after filming a forward-looking brand film for TDK with them last summer. "Under the unusually strong sunshine of Mallorca, we were able to carry out our work without stress, thanks to your perfect hospitality. We received a steel water bottle as a gift. The care for resources in the filming is in keeping with the spirit of the SDGs that our client has set forth, and we are proud of that, along with the finished film. I would love to work with you all again."
Smart production is often green production. Producers at AOI Pro reduced transport emissions on the ground in Malaysia for the Diner's Club Welcome campaign. The film features a wide range of nature's best locations barely 90 minutes from the heart of Kuala Lumpur.
But eco-minded production is still new to people in territories like Malaysia. On his own initiative, PSN Partner and Service EP Pete Singh tapped into sustainable practices outlined by Green The Bid to achieve some fundamentals while shooting Pernod Ricard's One For Our Planet campaign for India.  "We didn't have printed out call sheets or shoot boards. No mineral water bottles on set. We made sure everyone had their water tumblers."
The sustainable development goals of a brand can run up against production feasibility. Realizing they could not rely exclusively on local crew in Ivory Coast to produce a long list of deliverables for their Magnum AWA campaign,  Unilever executives relied on PSN to provide the local ground truth needed in order to assess and set realistic expectations.
"The cocoa fields located in the rural areas of Ivory Coast are undoubtedly one of the most spectacular but also complex destinations we have ever had to shoot in," writes Oscar Fernandez-Baca, Account Director for Magnum, Lola MullenLowe.
"We wouldn't have been able to put this together without PSN's expertise, on ground and local know–how and diligence," adds Head of Production Lola MullenLowe, Felipe Calviño. "To be able to help support and empower Ivorian women is a reward in itself, but the groundwork required to put together the film and assets was just as fulfilling."
PSN clients have enabled our network to support our planet and its population. We're delighted to see individual Partners make their own contributions. The team at PSN Brazil purchased a 10-acre property it turned into an organic farm, planting more than 300 trees in the first year and producing certified organic foods that go towards feeding their crews on set. A solar-powered studio is on the horizon.
The team at PSN UK joined @GreenTheBid and fellow collaborators on their Green Production How-To Manual presentation at an AICP Town Hall. Since initiating a collaboration with JUST ONE Tree in 2020, they've contributed towards the growth of 4850 trees that will sequester nearly 1500 tons of CO2 over the next 25 years.
 There's more to achieve behind the cameras. Smuggler has shared where to donate prepared food left over from shoots in the US. We encourage service producers and suppliers in other countries to fill in the blanks here worldwide. 
Such enterprises merit industry-wide recognition. So we're especially pleased to see Screen International launch its Global Production Awards this year with categories that will showcase and celebrate Sustainable Initiatives and Sustainable Production. Can't wait to applaud the winners to be announced at the Cannes Film Festival and share their inspiring efforts with our filmmaking community.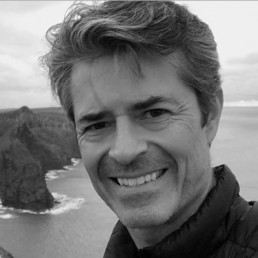 Production work on commercial, long form, and factual shoots for clients from around the world during three decades is at the core of Michael's experience. Highlights from his years managing production service budgets of all sizes for feature film, sport celebrity shoots, primetime TV programming for all major US & UK channels, and events as diverse as motocross and a papal visit.
This Los Angeles native with a traveler's soul started his own production service company overseas to share with fellow production professionals the wonders of shooting film, photo, and video projects across Spain and Portugal – the sunniest corner of Europe. Michael is as quick with a smile as he is committed to no-nonsense production workflow delivering cost-effective, quality results you can see in frame. He founded the Production Service Network in 2014 to accomplish that worldwide. He manages PSN from his base in Madrid in Spain, Madeira in Portugal, or most anywhere he has an Internet connection.