Russia 2018 has already delivered some memorable moments.  Viewership of the global event dwarfs even the Super Bowl so advertisers pour blood, sweat, tears, and money to score.
PSN Partners in Spain, Romania, Mexico, Colombia, and Brazil have all participated in the production of campaigns airing during the World Cup.  Following a series of articles about their work in LBB, we've gathered up these interviews with our Partners from behind-the-scenes.
Albert Soler, Service EP at PSN Spain, kicks it off with insights about the critical local support provided to Bruce Hunt directing a Radical Media UK production for a Lay's spot featuring Lionel Messi. 
Q: Why shoot 'Lays Re-United' in Spain?
We've shot with Messi before and have experience working with him. When it comes to sporting talent you need to have more than good equipment – you need flawless pre-production. Their schedules won't allow for mistakes or a re-shoot. Messi lives in Barcelona so we're able to make sure we had the maximum time possible for the shoot.
Q: This high-profile campaign will be seen in several countries. How did you ensure you had time to shoot all needed versions?
In global campaigns there are a lot of markets to satisfy. You just need to be sure and make the client aware of everything that could happen on the day. In particular, they must know what is achievable in the time frame that they have with the talent. You can only do this if you have a lot of experience working with footballers.
Q: Can you share a top tip for working with footballing talent?
It's important to be involved from the very beginning to ensure your narrative and outcome are achievable. You have to have the talent and the post production schedule front of mind in pre-production, or it can be disastrous. Once you know it, you just have to be ready and rehearse as much as possible to have the perfect choreography the day you shoot.
Q: What presented the biggest challenge in this production besides time constraints?
There were quite a few different cast members involved who also needed to be coordinated perfectly in the strict time schedule we had.
Q: What is it like shooting with Messi?
Messi is probably the most professional celebrity we've ever shot with. He is as demanding of his performance on screen as he is with himself when he is playing soccer. He also expects the same diligence from the crew on the day, and it makes for a tight production!
Ari Garza, Service EP at PSN Mexico, hit the hills for the Toyota spot convincing Mexicans and Americans to stay up all night with World Cup Tundra coffee.
Q: Why did Sweatpants Media choose to shoot in Mexico City and Xalapa Veracruz?
Toyota's Tundra pick up is the truck of choice for bringing coffee beans down from the Mexican hills to help fuel tired eyes. It was crucial that the location was authentic to the story. It also just so happens that the coffee fields in Veracruz are some of the most beautiful places to shoot automotive.
Q: How did adverse weather conditions impact your shooting in Veracruz?
The weather conditions were important to monitor. The dirt roads can get muddy in the humidity. We wanted to show off the natural location without completely covering the truck in mud. We chose the green coffee fields to contrast with the dirt roads but also because they are not far from Mexico City.
Q: What role did Mexico City fill for this shoot?
It was our film hub for crew and equipment.  We also made most of the character actor vignettes in a studio which has a diverse multiplex. This approach permitted us to stay within the time frame outlined since we didn't have to move from one location to another.
Q: How did you play up to culturally specific cues for this national campaign?
The casting brief was for Anglo or Hispanic actors. Mexico City has good casting resources so this wasn't a problem at all.
Q: What were key elements/challenges of this campaign in terms of production?
We had our eyes on the sky, but the weather aligned well with our shoot calendar to allow for perfect conditions for driving shots of the Tundra from our Scorpio Arm and drone.
Giuliano Doman, Service EP at PSN Romania, was the man on the ground for the recently released global Kia spot.
Q: Why the choice to shoot in Bucharest?
Keystone and Innocean decided to bring their shoot to Romania because we offer a diverse range of city streets and exterior locations, as well as interiors for the shoot. The film needed to seem as though we were watching fans in different locations around the world, and Bucharest has a diverse portfolio of locations to choose from. We also are very competitive budget-wise when it comes to shooting in a city.
Q: What specific considerations did you make since this was a global campaign, free of bias?
Casting was particularly important. We had to find actors that could play football and also include a diverse range of ethnicities to reflect the many different countries tuning in to the World Cup games.
Q: What were the biggest challenges as you orchestrated everything from driving to street scenes, crowds, and interior shots?
The sheer number of locations we were shooting in demanded a tight schedule to not blow the budget, so there was no room for error. We had to be thoroughly prepped in pre-production.
Q: All that with a creative team you were working with for the first time? 
The whole shoot with Keystone Films under the direction of John Park came together, chaos free.  There was a real sense of teamwork.
Juan Pablo Bernal, EP at PSN Colombia, signed up for the long haul to produce daily commercials during the World Cup for Banco Davivienda – a huge production undertaking (approx. 10 spots every two days) requiring quick turnaround.
Q: You're half a world away from the action in Russia.  How did Banco Davivienda and Leo Burnett Bogota choose to shoot this campaign with you in Bogota?
It wasn't an easy pitch. During past World Cup tournaments, the bank has run some incredibly successful campaigns which have performed well on YouTube and other social platforms. To convince the brand and their creative team to shoot with us, we produced four of the twenty-five spots to show what could be done in Bogota. We built a small set and cast the characters. In the end, they were so impressed with the quality they gave the go ahead for the production of the whole digital campaign.
Q: How did you avoid any conflict between nations or national bias when casting the VAR refs from four different countries?
Although it is a campaign based on local humour, the people of Latin America share common interests and wit. We made sure everything was relatable to viewers in the markets who would be watching (Colombia, Costa Rica, Panama, Salvador, Honduras). The campaign has grown massively across social each day, so I think we hit the mark.
Q: And Colombia had a deep enough talent pool to find the VAR refs of distinct nationalities?
We sought out very talented actors that could play a specific nationality in this group of four referees. There are two that represent their original nationality, but two Colombians had to play as foreigners. One Mexican, one Indian.
Q: What have been the key challenges of this campaign?   You're producing an immense amount of commercial content.
Yes! We have produced 22 different spots for TV, 40 for digital channels, as well as daily deliveries (approx. 10 spots every two days) during the World Cup. Of course, new results within the World Cup require us to adapt our scripts.  We need to be fluid and flexible with what's happening at the games. We have a team ready to shoot after every match with very fresh scripts in hand. It's not dissimilar to shooting a live TV entertainment series.
Andrés Mailhos, Service EP at PSN Uruguay, hopped into the director's chair to produce this Uruguayan government spot aiming to showcase the country's enduring patriotic spirit since winning the first ever FIFA World Cup.
Q: Did the very national focus of this commercial make Uruguay a natural choice for the shoot? 
Yes, we shot all of the live action in Montevideo and surrounding areas, but our location was also key in terms of sourcing the old stock footage of the Olympics and the first FIFA World Cup in 1930, hosted in Uruguay. It was really tough to get to the original/master Copies. In many cases, they no longer existed or were damaged. Despite that, we managed to get footage of these events and the 1950 World Cup tournament to use in the spot.
Q: What key considerations did you have to manage in the campaign? 
The central message of the campaign is very universal. The only potential conflict is the VO, so three versions have been created: Spanish, English, and Russian.  Our national brand also doesn't have huge big budgets to play with, so we had to be creative with what we could provide.
Q: How did working with a number of high-profile football players and other celebrities affect the shoot?
Fortunately, the nature of the campaign meant that everyone was keen to get involved and contribute to the project where they could. However, as with most footballers, they have incredibly tight schedules, and many of the national players work internationally – Suarez plays for Barcelona FC, Cavani plays for Paris Saint Germain, Godin plays for Atletico de Madrid, and so on…
When it came to the footballers we also had to be keenly aware of pre-existing personal contracts that players have with international brands such as Nike, Puma, or Adidas. We had to study in detail what was and wasn't possible, to avoid potential image rights conflicts.
The Russia 2018 beer sponsor for Korea, Cass Fresh, stepped in with a film to spark confidence in its national team.   Kimi Kim, Service EP at PSN South Korea, managed the very different visions of a director from the West with a client from the East in her work on the project for Official World Cup sponsorship.
Q: Oriental Brewery, the makers of Cass Fresh, are based in South Korea.  Why was Seoul the best place to shoot the commercial? 
The commercial has a very strong local story behind it. South Korea was last semi-finalists in 2002 but haven't since competed well internationally. The underlying message was that even though our opponent will be very hard to beat, we won't know until we try.
The message can kind of be applied anywhere. Oriental Brewery actually wanted to work with a foreign director, and we had worked with their chosen director two years ago through PSN so they came straight to us when they decided Seoul would be the place to shoot.
Q How did the campaign come into being?
The big idea came from the agency, but the director worked very closely on the storyline. He had learned of our football history and wanted to inject a lot of local feeling into the narrative. It was interesting to see how a foreigner interprets the culture and aesthetics of Korea. The challenge for us was that the director wanted to go very raw with what he was depicting, but the agency wanted the whole commercial to look polished. We had to strike the balance with the locations and services.
Q: Did your work involve national celebrity talent for the film?
Yes, two renowned Korean football players were in the film, as well as a famous commentator. They are generally very nice people so it was very good experience working with them.
Q: What production elements of this campaign stand out?  
The biggest challenge was balancing the demands of the agency and the director and ensuring the best visual outcome. We had a large number of shots to complete within two days, and on the second day it was raining heavily. We had to incorporate an additional shoot day to capture the shots needed. Luckily, this gave the director the opportunity to capture additional footage that was later pitched in to the agency and made it into the final ad.
Chinese companies put their money on the celebrity draw of Neymar to sell their products during the World Cup.  First up was this commercial for electronics giant TCL.  With barely a breath between, the  Service EP at PSN Brazil, Daniel Araújo, then oversaw local production of this space odyssey for mobile phone manufacturer OPPO.  
Q: What drew these two brands to shoot their commercials in Brazil?
Neymar was in Brazil at the time of both shoots recovering from an injury. One of the spots will air in Brazil on TV, and when filmed in Brazil, the taxes are lowered significantly. This tax only applies to commercials that air on TV in Brazil. No tax is applied to commercials filmed in Brazil that air in other countries. Also, in the TCL case, the shoot was combined with a press conference to launch the products, literally in a venue side by side with our studio. He first went to the event and afterwards came to the studio. The Oppo shoot happened exactly a week after TCL but in a different, and much bigger, studio. For this one Neymar had to fly by helicopter from his beach house in Rio de Janeiro to a helipad a few kilometres from the studio in São Bernardo, on the outskirts of São Paulo.
Q: Have you worked with Neymar before?  What was it like working with him on these projects? 
Yes, we've worked with Neymar before. As with most talented celebrities, time is limited. We had separate pre-light and rehearsal days with a full crew to maximize our time with Neymar. Although he's always smiling and chatting to everyone, he's quite shy. He always brings his best friends and/or family members to the set to feel more comfortable. At the TCL shoot his young son came, so he was very relaxed. They even managed to squeeze in a little kick-about.
Q: Both of the world cup ads you worked on were VFX heavy. How did that influence your preps on set?
We had limited prep time for both spots. The Oppo spot required huge set builds, heavy rigging and lighting set-ups, as well as a lot of green screens. The rehearsal and pre-light days were key to capturing both the commercial and the stills within a six-hour period when Neymar was on set. It was very tight, but all went smoothly and was well within the budget, so it was a good outcome all around.
Q: Did you work closely with a VFX supervisor?
The directors on both spots had a lot of VFX experience. Due to travel issues, the VFX supervisors couldn't be on set, but they worked virtually during rehearsal and pre-light.
Q: Both ads are for the Chinese market. What cultural specifics did you have to be aware of?
Brazil is fortunate to have a growing Chinese community. Having serviced the Chinese feature film "Line Walker," where we had almost 100 Chinese crew working in Brazil, we were well prepared with local translators, Chinese-speaking PA's, and support crew.
Q: What was the most challenging aspect of the shoots?
The schedule for almost any commercial is challenging, and these spots were no exception. Making the futuristic costume for Neymar in the Oppo spot as well as the huge set build were probably the biggest challenges. We searched for costumes and material in Los Angeles and Madrid, but in the end, we used our local Brazilian costume designer, who produced two futuristic costumes in a couple of days that LA designers would have taken weeks to make. The set construction was coordinated by the Chinese set designer and our local São Paulo-based designer. It all had to be accomplished on a really tight schedule. We didn't have much room for adjustments, so everything had to be extremely carefully planned.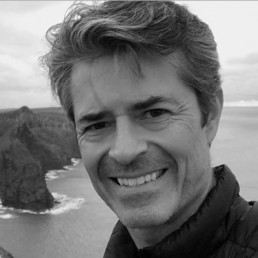 Production work on commercial, long form, and factual shoots for clients from around the world during three decades is at the core of Michael's experience. Highlights from his years managing production service budgets of all sizes for feature film, sport celebrity shoots, primetime TV programming for all major US & UK channels, and events as diverse as motocross and a papal visit.
This Los Angeles native with a traveler's soul started his own production service company overseas to share with fellow production professionals the wonders of shooting film, photo, and video projects across Spain and Portugal – the sunniest corner of Europe. Michael is as quick with a smile as he is committed to no-nonsense production workflow delivering cost-effective, quality results you can see in frame. He founded the Production Service Network in 2014 to accomplish that worldwide. He manages PSN from his base in Madrid in Spain, Madeira in Portugal, or most anywhere he has an Internet connection.