Widely known for ranking high on happiness and low on corruption, Denmark is also a go-to destination for filmmakers and photographers in search of sleek modern architecture and innovative cuisine that are never too far from nature.  PSN Denmark Partner Mikkel Damkiaer shares here some insights on shooting in his homeland.
Q: What are the most commonly requested locations when shooting in Denmark?
A: The Scandinavian architectural look in the streets of Copenhagen. The Scandinavian furniture and interior design. The coastline of Denmark and the modern architecture throughout the country.
Q: What is the standard location fee in Denmark for houses, apartments, parks, i.e.?
A: The fees vary depending on the locations. A standard fee for private business is DKK 1.000 per hour (€135), with a minimum of 4 hours' pay. Rates for private residences and apartments are typically around DKK 10.000 per day (€1350), but this amount can vary from 5.000 DDK (€675) to 20.000 DDK (€2700), depending on the type of location.
Q: Is Denmark a film-friendly country?  How quickly can you get permits to block roads, removed parked cars, etc.?
A: Denmark -and the capital, Copenhagen- is, in general, an extremely film-friendly and welcoming place for international productions. A few buildings owned by the state are restricted to non-commercial use only, but, in general, most places across the country are accessible. The Danish authorities allow shooting in all public areas if film crews do not disturb, block, or interfere with pedestrian, bicycle, and general traffic.
If the production requires ground control (like temporary traffic blocks, "no parking" signs, etc.), the process of getting permits is usually five business days.
Q: How many daylight hours do you have in the different seasons?
A: During summer the days are approximately 17 hours and during winter, six to ten hours.
Q: What is the climate like in Denmark?
A: The warmest days are in July/August. Summer time temperature is between 20 – 30 degrees Celsius.  The winters are cold, around -5 to +5 degrees Celsius, and the weather is quite unpredictable. Snow is rare but would occur mainly in December, January, and February.
Q: What is the best season to shoot?
A: Most clients really like the special light we have in the Scandinavian countries. Especially spring or late summer, when the sun circles in a low angle across the sky. Others prefer to take full advantage of our long summer days.
Q: What calibre of cast / actors do you offer in Denmark?
A: Denmark has a lot of internationally known actors (considering the size of the country). Mads Mikkelsen (Star Wars, Casino Royale, Hannibal), Sisse Babet Knudsen (Westworld, Borgen), Jesper Christensen (Casino Royale, Quantum of Solace, Spectre, Melancholia), Sofie Gråbøl (The Killing), Nikolaj Coster-Waldau (Game of Thrones, Black Hawk Down), Pilou Asbæk (Game of Thrones), just to mention a few.
Q:  And talent diversity?
A:  Not all Danes have bright hair, red beards, and blue eyes. We have broad diversity of ethnicities in Denmark, especially from Asia, Greenland, Turkey, and the Middle East.
Q: How is shooting with Danish kids regulated?
A: Unlike much of the rest of Europe, there are no specific film-regulations (length of days, etc.) when working with Danish kids. That said, we always plan for shorter days than for adults.
Q: Which qualifications would you point out in your local crews?
A: We always use key crew with minimum 10 years' experience.  All of them are used to working with international directors and DPs. First-timers shouldn't be alarmed to find the typical Danish crew size is often leaner than in most other countries. We have a long tradition for flexibility and for helping out where it's needed, even across departments.
Q: How well does everyone speak English across Denmark?
A: All Danish crew members understand and speak English fluently.
Q: How long is a normal working day in Denmark, and how does overtime work?
A: The crew day fees in Denmark are quite low, but a standard day is also only 8 hours (incl. 45min lunch). After 8h the OT is calculated as +25% per hour for the 9th and 10th hour. 100% for the 11th hour, 150% for the 12th hour, and additional hours after 12th hour are +200% per hour. We would, therefore, always recommend 2x 8h days rather than a 1x 16h day.
Q: What is the range of production facilities in Denmark?
A: Denmark has a lot of film studios in all sizes and price categories. Most studio facilities in the capital are within 30 mins. from the city centre. Post-production houses are world-class level.
Q: Do you have good rental houses for camera, light, and grip?
A: Yes. All major camera, light, and grip rental houses are located in Copenhagen, and the vendors are always up to date with cutting-edge equipment and software. All special equipment and specific lenses for cameras can be sub-rented in Germany at reasonable rates, if not available in the local kit houses.
Q: What sort of accommodations are available in Copenhagen, and how are they priced?
A: We have a list of production-friendly hotels that we usually recommend. The hotels know us and our clients. Even though most clients like to pay for the accommodation themselves, we consider it a normal service, helping out with finding the most suitable hotel in town for the specific client.
Normally our clients stay in 4-star hotels, in double rooms for single occupation. Rates vary from DKK 1.000 (€135) to 1.500kr (€203) per room per night. We, of course, also have 5-star hotels at higher rates, starting from DKK 1800 (€242) per night.
Q: How about those world-class restaurants like NOMA?
A: Don't get me started. NOMA, Geranium. Kadeau, Alchemist, AOC, and so on. In Copenhagen alone we have 20 Michelin stars, and most of them are focused on the New Nordic cuisine, invented by NOMA. Try it!!
Q: Name a favorite production of yours' shot in Denmark, and tell us why.
A: The last job we did in 2016 was a TVC for Carlsberg (UK) produced by Stink for Fold7. We had the pleasure of working with director Martin Krejci and Mads Mikkelsen in the leading role. 90% of the film was shot exterior at locations showing different aspects of Denmark, accompanied by Mads's voiceover. We faced a very tight time schedule and a challenging script, but thanks to a united crew from all over the world, we managed to execute 5 succesful shooting days with a happy client. The film will be released in the UK in 2017.  We're happy to have played a part.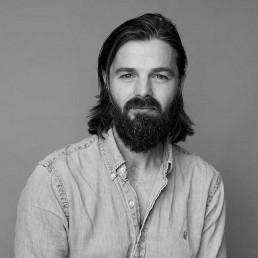 Mikkel Damkiær founded the PSN Denmark shop in 2011 to meet a demand for high-level production service across Scandinavia. Four years before this entrepreneur, he had founded Produktionen.dk, which is today the biggest rental house for film production vehicles and equipment in the region.
Mikkel's success at work on feature films, television, stills, and commercial films for top-tier clients from the UK, Germany, and the US has generated repeat business that has seen him expand the company to keep pace without sacrificing the personal touch.