Norway inspires.  From the end-of-the-earth feeling looking out over its numerous fjords to the spellbinding allure of the Northern Lights.  Eirik Vaage leads the PSN Norway team servicing film and photo shoots seeking unspoilt nature.  We caught up with him after a busy summer season as the nights get longer and the Northern Lights beckon creatives.
Q: Can you tell us a few top reasons why projects shoot in Norway?
A: Norway is novel.  As most of our shoot locations are new to filmmakers, we're making an impression that is really putting us on the map.  One great example is Ex Machina, by Alex Garland, shot on location in Valldal, Norway.
A standout is our unique fjord landscape that offers a potent mix of mountains, fjords, the sea, and beaches in very close proximity. At the Lofoten Islands, for example, you can reach all the potential locations within a 90-minute drive.  There you'll find nothing less than stunning nature, remote and exclusive villages, spectacular islands, coastline, mountains, fjords, waterfalls. The Hollywood production Downsizing has just finished its location shoot in the Lofoten Islands, taking full advantage of the wide range of locations in close proximity to their basecamp in Svolvær.
Q:  What is the best season to shoot in Norway and why?
From mid-April to mid-September is normally the best time for shooting on location. Norway has great summers – fairly warm with long days of sun.  But be sure to check as there is a huge difference between daylight hours and temperature from the south to the north.
Q:  Is there still snow up north in the summer?
A: Generally speaking, Norway sees a thaw even in its northernmost reaches.  We're amongst the first to get snow and last to see it melt.  Norway does have a lot of glaciers that can be reached by ski lifts or helicopter.  And while the glaciers are accessible all summer, you're better off heading to the southern hemisphere if you seek pristine snow conditions.
Q: What´s tricky about shooting in Norway?
A: Oh, we do have a few challenges in Norway. One is the obvious climate challenge. The winter is beautiful but cold. The days are short. December and January have about 5 hours of daylight. And the wind can be a serious problem. You really can't do much work when a North Atlantic low pressure decides to visit your location.
But let´s say you love the wind and short days, you still have to cope with the endless snowfall which can turn a nice location into a unrecognizable whiteout within hours.  Still happy?  Nothing a clear night looking out at the Northern Lights can't fix.
I admit we have some logistic challenges in Norway. I do love our roads, ferries, tunnels, and bridges, but I know from experience it can be a surprise to a foreign production crew. This being said, the Norwegian government is really putting good money into upgrading the infrastructure. Nowadays, it "only" takes you 6 hours to drive 300 kilometers on E39 from Volda to Bergen.  And E39 is a European road, just to put things into perspective 🙂
Q: How well does everyone speak English in Norway?
A: English is our second language. Most people speak it fluently.
Q: Does a DOP need to travel in, or do you have great ones in Norway with reels to present?
A: Norway has a highly skilled film crew working out of Oslo, the capital. DOP and all key roles can be hired. Reels can be presented.
Q: What are the strong and weak points of casting in Norway?
A: There are several casting agencies in Oslo. Outside the capital, we can call on smaller agencies to provide niche local talent living all across the country.
Q: Does Norway have a wide array of ethnic diversity?
A: The "blond Scandinavian" look is now complimented by increased ethnic diversity for which Oslo is the hotspot.
Norway also is home to a minority native population called the Sami people. They work to preserve a traditional, semi-nomadic lifestyle of hunting reindeer in the northern parts of Norway, Sweden, and Finland.  It is more common for them to farm reindeer these days as most have settled down in small communities on massive stretches of land.
Q: Does Norway offer a film incentive?
Yes, indeed. The incentive programme was introduced in January 2016 and offers a 25% reimbursement on all Norway expenditure. The 25% film incentive can also be combined with regional funding. Norway has 5 film regions that make it a much more attractive destination for co-productions.
Q: What local delicacies or traditions do your clients find intriguing during their stay in Norway?
A: Norway´s "children day" or "Independence day" is celebrated on the 17th of May. It´s a tradition dating back to 1814.  About half the population dresses up in a distinct costume which mirrors the region the person comes from. All the children parade in the morning and the adults in the afternoon. It´s a day of celebration and truly a special experience for foreign visitors.
Clients also find the countryside "experience" in Norway to be a revitalizing time. The long daylight hours often bring a new energy to the film set and after shooting, the sun is still up inviting the crew to enjoy the spectacular nature. Norwegians love the outdoor life, and on a sunny day you'll see the natives take to the fjord for fishing or climbing the nearest mountain.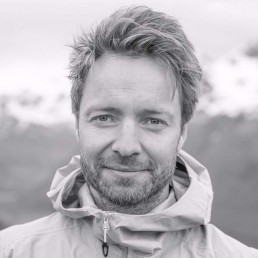 Eirik Vaage is the founder and Executive Producer of the PSN Partner in Norway. He co-founded his first company 12 years ago and has since built up a solid portfolio as a location scout, manager, line producer, and producer.
He's also a creative soul who has directed several documentaries for the main broadcast company in Norway. The spectacular nature on the west coast of Norway still fascinates him. In 2014, Eirik wrote a book about the Alps of Norway – casting some light on this under-explored and spectacular region. Beside working with his partners under the PSN Norway banner, Eirik is CEO of winter's largest extreme sport festival in Norway. If you need a stunt scene, Eirik is the person to organize it.
What makes his day? "To build a good project, deliver a solid production, and make everybody smile," says Eirik. "The film industry on the west coast of Norway is like an extended family, and we make sure our friends will enjoy their stay with us!"