The historic Oscar sweep accomplished by South Korean feature film Parasite is a fitting culmination of efforts made by a nation of filmmakers that knows no borders.
Filming in Spain was already underway during 2018 when South Korean producers of the Netflix series, Memories of the Alhambra, reached out to our Production Service Network to scour Europe for a train, station, and tracks they could control for filming with explosives.
Their choice to work with PSN Hungary in stations outside Budapest resulted in scenes edited seamlessly with those from Spain.
South Koreans are prolific storytellers whose content is now widely consumed across Asia Pacific.  Unlike the US, it is a region with no 1-inch-tall barrier of subtitles to overcome.
The post Asian financial crisis shift to a creative economy and transnational rise of Korean pop culture have bolstered the market appeal of this nation of 51 million people.  Look no further than commercial projects for Vogue, GQ, & Gucci featuring Kai of boy group Exo or Vivo with members of Got7, both facilitated by our PSN South Korea Partner.
During my own meetings with Seoul-based producers, I quickly learned that the same South Korean production industry that has facilitated scenes set at home for Hollywood features like Transformers and The Bourne Legacy, also serviced by the team at PSN South Korea, has an insatiable appetite for filming abroad.   From the reality series, Youn's Kitchen, set in the Spain's Canary Islands to features like A Man and a Woman, set in the winter of Finland, where our PSN Estonia Partner provided all local film support.
Whether or not leading South Korean brands have fed or capitalized on this international production prowess, the resulting film production on location with PSN Partners worldwide is extensive. Just click to take a look at some examples.
Campaigns created for Hyundai by the Korean advertising agency Innocean have relied on PSN Partners for film support in Thailand, Malaysia, UAE, Turkey, Romania, Denmark, Canada, and Mexico.  Producers working on Samsung campaigns have shot with PSN Partners in Hawaii, Argentina, New Zealand, South Africa, France, Greece, Bulgaria, Austria and Iceland. There have also been a couple campaigns each for South Korean brands like LG in Thailand and UK, KIA in Netherlands and Romania, or Korean Air in Canada and Thailand.
To paraphrase another great trailblazer, we commend Parasite director, Bong Joon Ho for achieving one well-deserved step for the South Korean film industry while also making a giant leap for talented filmmakers worldwide.   We hope subtitles are increasingly seen to help rather than hinder a project's success at impacting a global audience.
PSN and its Partners can't wait to be a part of those productions that rely on comprehensive production services abroad. To make our contribution toward audiences discovering a world filled with amazing stories.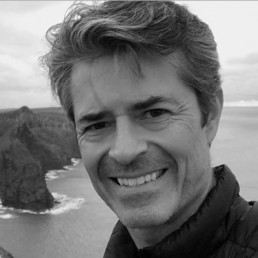 Production work on commercial, long form, and factual shoots for clients from around the world during three decades is at the core of Michael's experience. Highlights from his years managing production service budgets of all sizes for feature film, sport celebrity shoots, primetime TV programming for all major US & UK channels, and events as diverse as motocross and a papal visit.
This Los Angeles native with a traveler's soul started his own production service company overseas to share with fellow production professionals the wonders of shooting film, photo, and video projects across Spain and Portugal – the sunniest corner of Europe. Michael is as quick with a smile as he is committed to no-nonsense production workflow delivering cost-effective, quality results you can see in frame. He founded the Production Service Network in 2014 to accomplish that worldwide. He manages PSN from his base in Madrid in Spain, Madeira in Portugal, or most anywhere he has an Internet connection.