Shift Focus To Quality And Cost Control Alternative
Global content producers know that there is no such thing as a 'one size fits all' for local production support.  This is demonstrated time and again by the many requests producers give us as their local production partners.
PSN is a one-stop, global shop for cost-effective media production.  In a digital landscape where online storytelling is earning an ever-increasing share of advertising budgets, we've proven our capacity to work outside the once dominant TVC model to meet the demands of live action shooting of brand content for the likes of Sony Japan, MRF India, and Nike US.
"A huge thank you," wrote Daniel Jones, AKQA Account Director for Nike, in the Snapchat campaign with football superstar Cristiano Ronaldo in Madrid.  "It was one of the most enjoyable shoots I've experienced, and it was a pleasure watching you all work. I really felt privileged for us to be part of your team over those three days. We learned a lot from you all."
Quality production service on location is built from the bottom-up.  PSN partners provide all that is seen and unseen to ensure a successful shoot.  But that doesn't stop some producers compelled by budget-squeeze from taking the risky route of trusting critical local support to a "fixer" or other cost-cutting approach.   And penny-wise can easily turn pound-foolish on location.  Before resorting to guerilla tactics to contain costs that can result in untold problems, we suggest a few key considerations.
TAXES
Tax authorities in many countries apply one form or another of Value Added Tax to local goods and services.  PSN partners are companies properly registered to export the services they provide clients.  Working with a PSN partner is far more effective than a trip to the airport VAT refund window.  Producer clients of PSN partners' never pay VAT on services.  Expenditure on the production service markup that producers aim to avoid by hiring an individual for a "quick fix" is often less than half the VAT bill they may ultimately face.
ADMINISTRATION
Consider the administrative headache client producers (and their accountants) are spared by receiving and settling one comprehensive bill for local services in a language they understand.
Adding to the complexities are local employment taxes that vary in each country.  Getting this wrong could be expensive – all of our partners are experts.
CASH ISN'T ALWAYS KING
Payment for services in cash is increasingly complicated.   Producers once willing to risk limitations enforced at customs arrival may now find additional trouble paying for services in cash.  Collaboration amongst governments to quell money laundering in the European Union, for example, has resulted in cash transaction caps that are far less than most commercial productions require.
GUARDING YOUR INTERESTS
Compliance with location and work permits, risk assessment and prevention, insurance coverage, and all else securing a safe and productive workflow is a hallmark of Production Service Network partners.  Beyond professional, it simply makes common sense to keep carefully prepared production projects clear of risks that no one – from the end-client to the content creators – is prepared to take when properly informed of the potentially hazardous consequences for all involved.  After all, even the budget airline that producers fly to reach a location upholds minimum standards!
What brand or media outlet would voluntarily expose itself to embarrassing and potentially costly scrutiny by local authorities because their production team cut corners?  The unfortunate truth is that many do so unknowingly when the producers of their content entrust the local production support of their film and photo shoots to low-cost alternatives that aim to keep a production under the radar.  Ignorance is not bliss when reality bites.
A SOLUTION
We are realistic.  PSN partners know and understand the budgetary challenges faced by today's content producers.   We enjoy collaborating with like-minded production colleagues who engage with their own creative team and clients to work professionally within acceptable parameters or move the goal posts as agreed by all parties.  We respect that process and establish a transparent dialogue with the client producer – from the preparation of a bid through the entire shoot – that enables us all to deliver the best possible creative results within a wide range of budgets.
When the available budget for local spend doesn't match creative expectations we discuss local alternatives and can offer a world of options in other countries if the brief permits us to alter course.  We provide answers for producers who ask the right questions when faced with the tough challenge of digital storytelling outside their comfort zone.
Think twice before you seek out a quick fix.  Show us your brief, and let's start a dialogue that will lead to a successful and professional location shoot for all.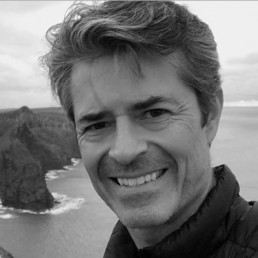 Production work on commercial, entertainment, and factual shoots for clients from around the world during more than two decades is at the core of Michael's experience. Highlights from his years managing production service budgets of all sizes for feature film, sport celebrity shoots, primetime TV programming for all major US & UK channels, and events as diverse as motocross and a papal visit.
This Los Angeles native with a traveler's soul started his own production service company overseas to share with fellow production professionals the wonders of shooting film, photo, and video projects across Spain and Portugal – the sunniest corner of Europe. Michael is as quick with a smile as he is committed to no-nonsense production workflow delivering cost-effective, quality results you can see in frame. He founded the Production Service Network in 2014 to accomplish that worldwide. He manages PSN from his base in Madrid, Barcelona, or most anywhere he has an Internet connection.