In the sunniest corner of Europe, Spain is a year-round, go-to destination for commercial and long form filmmakers.
Working in sync with the team at PSN Spain is Los Angeles-based EP, Peter Steinzeig. His insights can help producers decide if Spain is a good fit for their projects.
Q: Can you tell us a few top reasons projects shoot in Spain?
A:  Pleasant year-round shooting climate in landscapes like California.  Classical European and ultra-modern locations.  Top-quality crew & equipment in a proven service industry delivering some of the most competitive production costs in Western Europe.
Q: How well does everyone speak English in Spain?
A: Spain has been producing films since 1897. It first became popular with international filmmakers more than a half century ago so use of English in the film community is common. Just as Hollywood in the US, there are English speakers in most all positions.
Q: How do local crews in Spain stack up?
A: We have top-drawer professionals in all departments.  While we're happy to support a renowned make-up artist or hair stylist on a beauty shoot, for example, we can just as easily provide top-notch professionals locally.  Animal wranglers, precision drivers, and special FX are on hand too.
We are also as well-versed at supporting still photography in tandem with a film shoot as we are at facilitating remote shoots that reduce a project's carbon footprint.  We've done it all under the tight time constraints of celebrities, as well as the services with a flair for the abstract. And we provide international caliber photographers to work locally upon request.
Q: Does a DOP need to travel in or do you have great ones in Spain with reels to present?
A: We have a good selection of Spanish DOPs who are often called on to shoot at home and abroad.  Many clients choose to shoot with our local DOPs once they've had a look at the show reels.  We can also, when asked, provide local directors to fit a particular client brief.
Q: How about art, construction, and wardrobe in Spain?
A: Our crews can design it, build it, stitch it, and much more to spec.  We've put that to the test in projects ranging from the staging TV shows to table-top shoots!  Projects are often shot in Spain because we already have the real-life locations such as modern and classic architecture, the seaside, mountains, and deserts that a project requires.
Q: What are the strong and weak points of casting in Spain?
A: Talent rates are negotiable in most all instances.  Client feedback on the demands for particular roles is critical in determining what rate will attract enough suitable talent to a casting session.  This approach can require some careful calculation up front, but the resulting savings as compared to standard rate tables for buyouts are often well worth it.
We also can book top models directly to streamline casting and keep a lid on costs.
Perpetual talent buyouts are not feasible in Spain. A defined limitation to image rights is enshrined in national legislation. But experience has shown most projects are well-served with a 5-year buyout and option to renew.
There is a limited supply of talent for English-speaking roles with a native accent. Not so with Spanish, but it is important to remember that the most common Castilian accent is distinct from Latin American accents in much the same way that a British accent differs from that of an American.
Q: Does Spain have a wide array of ethnic diversity?
A: Faces native to Spain reflect the millenary crossroads that is this country's history.  There is a wide selection from fair-skinned Celts in the northwest to olive-skinned Andalusians in the south.  We deliver it all in major cities like Madrid and Barcelona.
Spain's ties to Latin America have made it a natural home in Europe for Hispanics as well. There is sufficient diversity to cast featured extras in roles calling for East Asian and black talent. We can cast in London or elsewhere in Europe to boost the diversity when required.
Q:  Are there talented performance specialists in Spain?
A: Stunt men and precision drivers are readily available.  Many more particular performers are already in the books of local agencies.  We've also been successful with street castings of some performers and outreach at schools and academies related to a specific ability.
Q:  What is the best season to shoot in Spain and why?
A: Most projects come looking for sunlight in Spain.  After all, we are the sunniest corner of Europe!  Our standard 12-hour shoot day is too short to cover sunrise to sunset during summer daylight hours.  But Spain can also be a strategic choice in the depths of winter.  Many scenes from Doctor Zhivago were shot in the sierra mountains and countryside surrounding Madrid!  Even so, it is the 300+ days of sunshine in much of the country that make Spain a near year-round location when much of Europe is on ice.
Q: How has Spain played a part in feature film and high-end television?
A:  For starters, there's the renowned Spaghetti Westerns directed by Sergio Leone that staged the Wild West in the deserts of Spain.  Spain's epic filmography demonstrates the vast variety of locations to be found in our temperate Mediterranean climate.  From classics like Lawrence of Arabia and Spartacus to more contemporary films such as Empire of the Sun, Star Wars II, The Gladiator, Green Zone, Indiana Jones and the Last Crusade, Exodus, Fast & Furious 6, and two instalments of the Bourne trilogy.
Game of Thrones and multiple seasons of The Crown are a just a couple of the long-format TV series our team in Spain has been fortunate to be a part of.  Film incentives introduced in 2015 for non-commercial projects have bolstered the interest for international projects to shoot in Spain.
Q: What special traits or stand-out places in Spain do you think could serve as interesting storytelling ingredients?
A: Architectural styles bridging millennium meet modern in this home to recent designs by the likes of Frank Gehry, Oscar Niemeyer, and native son Santiago Calatrava.  Not for nothing did producers of Tomorrowland decide on Valencia's City of Arts and Sciences as a central location for the feature film starring George Clooney.  Geographically, Americans can imagine Spain as the place where they'll find all the natural beauty of California in Europe.  It's no coincidence that there are snow-capped Sierra Nevada mountains in both! On top of that the Spanish Canary Islands offer filmmakers an unparalleled volcanic landscape where otherworldly scenes from features ranging from Wonder Woman 1984 to Clash of the Titans filmed.
Q: Does Spain have ample studio space?
A: We have studios from the smallest to those large enough to stage multiple scenes on a soccer field for filming and still photography of a sports celebrity. Our main office on the Mediterranean island of Mallorca has a solar-powered studio topping a list of in-house advantages we can offer on this microcosm of Spain for suitable projects. Filmmakers like Ridley Scott and Francis Ford Coppola have used Spain's water tank on the mainland shore at the Ciudad de la Luz Film Studios which reopened for business following renovations in 2022.
Q: How about back lots?
A: Producers most often seek out Spain for its authentic settings.  That said, the Poble Espanyol near Barcelona offers a controlled setting to recreate Spanish and/or Mediterranean village life.  Some of the sets where cinematic legends including Clint Eastwood, Henry Fonda, Jason Robards, and Charles Bronson portrayed the wild, wild west are still in use at Fort Bravo in Spain's southeast.
Q: Does Spain have any tricky production requisites producers need to know about?
A: Shooting in Spain is not tricky so long as you work locally with a fully-insured, professional shop like ours.  Adherence to Spanish labor laws and location permits – both with reasonably workable timetables for processing – is the first of a number of considerations we're here to assist with.
And ignorance is not necessarily bliss.  Producers working under budget pressures sometimes hire a local "fixer" in an effort to cut corners.  They're often uninformed that non-compliance with regulations can prompt local authorities to halt the production immediately and issue costly fines –  much to the embarrassment of their clients.
And since the bottom line is often top priority, foreign producers need to know that a production service company can save them VAT (Value Added Tax) and negotiate deals with local suppliers that more than compensate for the standard service markup applied to services.
Q: What local delicacies or traditions do your clients find intriguing during their stay in Spain?
A: The revolution of Spanish cuisine personified by Ferran Adria continues to trickle down from the many Michelin-starred restaurants here to make meals an authentic experience – even at our catering!  More traditionally, Spain remains among the top 3 countries in seafood consumption so there is no shortage of variety.  And while few have the stomach to attend a traditional pig slaughtering, many visitors enjoy the salt-cured jamón. Paella comes in several varieties, including vegetarian.  But it is the omnipresent tortilla española (no salsa please!) that everyone loves.
Spain is also synonymous with fiesta and siesta (though not on set!).  Full enjoyment of the former makes the latter a much-needed way for visitors to recover.  Early morning flights after a wrap party are not recommended unless you wish to go all night and breakfast on chocolate and churros!
Got a question for Peter about shooting commercials in Spain?  Write him at spain.peter@
For film and TV, write Yousaf Bokhari at spain.yousaf@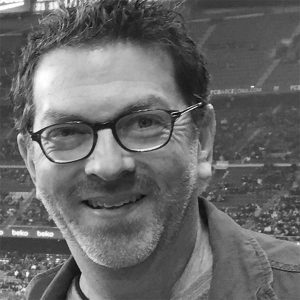 Two decades' EP experience working with brands and agencies in the US and international commercial markets equip Peter to lead the PSN Spain team of producers positioned across the country. Working in LA with Pulse Films, Gorgeous, and more, Peter learned to nurture the creative process by supporting the entire team. He takes pride in working closely with everyone involved to make each project a success. No matter the scope of the project, all are given the same amount of detail and professionalism.