Surprisingly diverse locations and casting in the least costly Euro-zone country make Greece a practical choice for many film and photo shoots.  PSN Greece Partner Andreas outlines the FAQs producers will want to know in this latest Q&A.
Q:  What sort of ethnic diversity can be cast in Greece?
A: Despite movie stereotypes, contemporary Greek faces cannot be distinguished from Mid or even North European ones. They are tall, light-coloured skin with brown or even blond hair. All Greek actors speak good to excellent English, with an accent most of the time.
Greece today is really a multi-ethnic country. Asians, blacks, Arabs, Hindis, and blondes are easy to find.
We maintain and draw from the biggest on-line casting archive in Greece with more than 18,000 faces of all ethnicities.
Q: How well do crew speak English in Greece? Is it limited to select department heads?
A: All production heads speak English fluently and crews adequately.
Q:  What stands out about the workflow?
A: Greek crews are highly skilled and make for a hard working team. They don't restrict themselves to their department alone.  During a set-up change anyone who is not busy will help the relocation. That allows us to work with smaller and more efficient crews.
Q: Does a DOP need to travel in, or do you have great ones with reels to present? How about art, construction, and wardrobe, comparatively speaking?
A: Whenever a visiting production company has requested it, we have provided top artistic and technical personnel (DoP, art directors, 1st AD, make-up, hair, stylist, etc), with great results. There have been cases when the DoP we suggested became a regular collaborator.
That said, there are no laws preventing crew from abroad working in Greece.
Q:  Do you have any stand-out specialties?
A: In co-operation with 30 Greek and international directors we're also producing more than 30 top-quality commercials annually for clients like DEUTSCHE TELECOM, L'ORÉAL, SAMSUNG, COCA-COLA, VISA, etc. And our international connections with top artists have brought significant experience in BEAUTY & HAIR commercials, utilizing special constructions, high-speed strobe shooting, and motion-controlled rigs and cameras.
Q:  Does Greece have ample studio space? How about back lots?
A:  There are several big stages (more than 1000 sq. meters / 10000 sq. feet) and a few backlots.
Construction departments are experienced and swift.
Q: What might surprise producers about Greece shoot locations?
A:  Greece can offer exceptional options which are far beyond what is expected. Of course, there are plenty of sandy beaches near white and blue villages by the sea.  But producers should also consider Greece for a generic European looking city, modern apartments, trendy shops, and cafés.  The list of unexpected continues with a sandy desert, lunar landscape, medieval castles, and more.
Greek architecture does not resemble the US urban or suburban cities, so exterior locations CANNOT be doubled. However, there is usually no problem for interiors (houses, bars, restaurants, offices, shops, hotels, stadiums, metro stations, etc).
Our locations database includes more than 2,500 locations / 180,000 pictures from all over the country.  You can whet your appetite by viewing a small selection here. Send us your brief, and prepare yourself for a surprise.
Q: What is the best season to shoot in Greece?
A:  Greece has a very mild climate, with sparse rains and snow only on the mountain tops, so it is possible to shoot practically all year round. "Winter" for Greek standards comes in February and March, meaning swimming is best in southern ports of the country. From April to October the weather is perfect, reaching 14 hours of daylight in the peak of summer.
Q:  Does Greece have any tricky production requisites worth flagging with producers?
A:  It's almost impossible to get a permit to shoot a commercial film in archaeological sites. For feature films we need a few weeks to get a permit, but it is feasible.
Besides the 40% Cash Rebate which is offered to long-form content (not in advertising films), we can write-off the 24% VAT against our local productions, so the foreign company will have a final cost practically without VAT.
Q: What local delicacies might you recommend for visitors?
A: Traditional Greek food is famous for the high quality of materials and genuine taste. Modern cuisine led by very creative chefs can offer great pleasure to food aficionados.
The top 100 restaurant list of Athens is a good start.  We're happy to make recommendations that fit well within the production plan.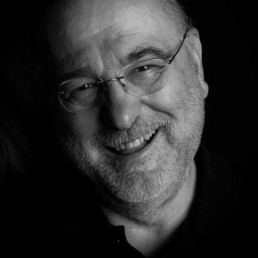 Andreas Tsilifonis is the founder and Executive Producer of the PSN partner in Greece. He has been an active member of the film production industry in Greece for the last 40 years. He worked as film director, scriptwriter, music composer, and editor for feature films, TV shows, and in numerous commercial films. During the last 20 years he has mainly produced all types of projects. He is now the President of the Greek Producers Association of Communication Tasks (PACT).