Vietnam brings fresh allure to creatives planning film and photo shoots in Southeast Asia.  Our PSN Vietnam Partner offers local insights for producers of international projects.
Q: Can you tell us a few top reasons projects shoot in Vietnam?
We have an incredible and versatile range of locations that is still vastly untapped in films today. Our crews' experience has solidified, production houses are up to international standards, and our costs are very competitive.
Foreign production houses already working with us come for landmark locations like Halong Bay and Phong Nga caves. Terraced rice fields and jungle complement the more generic locations like beaches and modern architecture. Our latest House of Travel spot took us to 4 key locations from the north to the south of the country.
The winning combination of competitive production costs, skilled and flexible crews, and an amazing variety of locations is shining a spotlight on Vietnam like never before.   Hollywood shot King Kong: Skull Island in northern Vietnam earlier this year, and more features are on the way.
Q: How well does everyone speak English in Vietnam?
The industry language is English, and department heads are mostly foreign. Our in-house team is multilingual (French, English, Vietnamese), which has been a great asset over the years, allowing us to collaborate and create bonds with partners worldwide. Additionally, our fluency in three languages ensures a smooth workflow when working with foreign teams and local crews.
Q: Does a DOP need to travel in, or do you have great ones in Vietnam with reels to present?
We usually arrange for our directors to fly in their DOP if they wish. However, we can also provide reels of a few foreign DOPs that we work with frequently and are available locally.
Q: How about art, construction, and wardrobe in Vietnam?
We are lucky to count the best art director in the country as part of our in-house team: Darren Loveday. With a track record of Hollywood features like Mission impossible II, Mad Max Fury Road, Ghostrider, and more, he is an amazing asset to all of our productions and guarantees great art direction on all our films.
Vietnam remains a country with very easy access to affordable tailors.  They can custom-make in a jiffy most anything we can't find on the high street.  We use a mix of both retail brands and tailoring on all productions.
Q: What are the strong and weak points of casting in Vietnam?
Casting for local talents is solid.  If foreign talents are needed, we usually call on casting agencies in Bangkok, which is only an hour's flight away. Our latest film for ASUS broadcast worldwide and shows a range of foreign casting.
Q:  Are there talented performance specialists in Vietnam?
Vietnam stuntmen have a good reputation regionally. Vietnam has a lot of martial art fighters that are frequently featured in Hong Kong productions.
Q:  What about equipment in Vietnam?
We have all the latest cameras (Red dragon, Red weapon, Alexa XT, mini, Phantom flex, etc.), lighting, and grip. Basic lenses from Master Prime to Ultra Prime to Cooke lenses. Anything more special can be brought in easily from Thailand or Singapore.
What we don't have are big rigs like Russian arm and motion control, but there would be no problem in bringing it in if the budget allows it. Bringing equipment is not an issue. King Kong brought 30 tons of equipment into the country this year. Same process applies for a smaller-scale shoot.
Q:  Are there any production pre-requisites for coming to shoot in Vietnam?
Shooting in Vietnam is quite straightforward. It's a country that offers great flexibility. There's always a way to get things done here, and that's the beauty of it.
Q:  Do I need a visa to come and shoot in Vietnam ?
Americans do need a visa, which we're happy to help them process.  Visa waivers have recently been granted to a wide array of European countries, as well as Russia, Japan, and Korea, for stays that don't exceed 15 days. All ASEAN countries are allowed in visa free under 30 days. This makes it especially easy to come in for commercial shoots. However, this is only valid for team members that don't work hands on.  Foreign technical and production crew members will typically need a business visa that we can arrange easily. It usually takes us no more than a working week to process all business visas applications, and even shorter when clients are willing to pay for a "rush".
Q:  What is the best season to shoot in Vietnam and why?
The country is divided in three parts with distinctive weather. While the north has four seasons, the center and the south have a dry and a rainy season.
PSN Vietnam is based in Ho Chi Minh City, where temperatures average 25 to 35 Celsius all year around. It is advisable to try and avoid rainy season from June to October for outdoor shoots in south Vietnam.  However, rain usually only occurs at the end of afternoon for a couple of hours.
Fortunately, there is always a part of the country that offers dry and sunny weather at any time of the year.  Based on the location required, we can always find a suitable place to shoot weather-wise.
Q: What local delicacies or traditions do your clients find intriguing during their stay in Vietnam?
Vietnam's food scene is absolutely amazing. From all types of delicious and intriguing street food to a scene of ever-expanding international restaurants, it is a go-to destination for any food lover.
Despite the modernization of the country, all sorts of traditions remain strong. Visitors can admire the beauty of the country filled with Cay Mai, the flower of the Vietnamese lunar New Year around February. Cruising at the back of a Xe om (motorbike taxi), you'll be able to witness daily life scenes, such as girls wearing the traditional Vietnamese costume, the Ao Dai, outside schools or old people playing Mahjong on street corners. Vietnam is also still home to 54 recognized ethnic minorities spread throughout the country with their own dialect and costumes.
Q:  What will people take away from their shoot in Vietnam?
A feeling of adventure, fun, and freedom that can't be matched anywhere else. Vietnam is an addictive destination: The frenzy, the landscapes, the food, the people, the history, the energy – all contribute to make it a unique place to shoot film. People always leave wondering when they'll next have the opportunity to come back.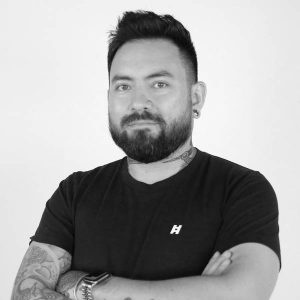 Chi Minh De Leo is one of the founders of the production shop that is PSN Vietnam. After 10 years spent on set as an agency creative in Vietnam's top agencies, Chi Minh bit the bullet and set up his own company with long term producer friend Phan Viet Quoc Huy. Since then, Chi Minh has worked on countless projects, including TVCs, animations, and documentaries for both the local and the international markets. Being trilingual and having lived in 4 countries, Chi Minh is a real connector. Between productions, he enjoys working on the development of a first feature and spending time discovering the city's ever expanding food scene.