Gerety Talks Production Service
Multi-tasking problem solvers who can anticipate foreign filmmaker needs on and off set. That's how three PSN Partners based on three continents summed up their producer roles in production service during a recent Gerety Talk.
"I've always placed huge value on being a problem solver and bringing the right team together," shares PSN UK Partner Pippa Bhatt. In reference to her new role as Production Liaison helping UK producers find the local shoot support they need abroad, Pippa adds, "I now have this huge network of around 50 Partners that are part of the team. I'm really happy about it, and I think it's going to be a great discussion for everyone."
Worldview on Production Service
No matter the brief, PSN Chile Partner Ana Luz Córdoba taps into her creative side to find solutions for her clients. "Sometimes we realize our countries don't have what they need for their project. We don't want to send a client of ours' who is very close to us and dear to our hearts to just anyone. This is one of the great things about PSN," offers Ana. "We can suggest a PSN Partner because we're totally confident in their capability. That's helpful for us as producers. We know our clients will be in great hands even though they won't be in ours."
The capacity to pivot projects to different territories has been fundamental during the travel restrictions of the pandemic and remains so as a shortage of A-list crew in some major film hubs impact production.
"Before the pandemic we can have Hong Kong crew, Malaysian crew, Taiwan crew fly in. It's very easy to source bilingual crew," admits Joan Chen, PSN China Partner. "But nowadays, since the travel restriction, it's kind of like the crew is locked down in a certain area. The talent we can access, the bilingual crew, is very limited. That will reflect in the cost. Overseas partner is surprised. How come the gaffer or bilingual AD is that expensive in China? It's maybe even more expensive than in New York! We've been frustrated trying to explain to them that we have limited resource."
Ground Truth from Production Trenches
Pippa welcomes that savvy producer clients now reach out for local ground truth earlier in the process to know what to expect. "We always value being a part of the conversation to be able to educate clients on what it means to be in production. Because, of course, we all know that so often you get the idea, and the budgets don't reflect the scale of the idea really in any way, so being able to honestly educate clients is a privilege and something that I think is really important in the industry. It's good to be a part of that process."
Ana and Joan worked together to massage into place the costs and all else for an Intel project from China shot in Chile. "It was not the typical need for European or American looking locations," notes Ana. "That was super nice because we were able to show different locations we would not have shot at if it was the traditional take."
"My position is to help Chinese client communicate with foreign crew", explains Joan. "Trust is very important for us. That's an advantage of PSN.  My Chinese client, Chinese production house, they trust me, and I trust the PSN Partner. They've never been to such a faraway country. They have very limited information about that country. But through PSN, we can have the trust with each other. That's going to help the workflow build up very quickly and efficiently. I share my experience and understanding about what Chinese client might request with Ana so she can prepare some things beforehand. Meanwhile, I can prepare my Chinese client, Chinese production house to understand the working habit. The system is different from China. For example, the China crew, they're working 16 hours per shift. They can even work more in a day. But that's not the case in other countries. And, for example, the bilingual producer in China, they might not all come from on-set job. They might not be so familiar with equipment or professional terminology. Because I'm from first AD background, it is easier for me to communicate with them to solve the problem. For example, they have a budget issue then I can come up with alternative solution to suggest. That kind of information can help the Chinese producer be more confident to work with our overseas Partner."
"Even though South America and China are such different cultures we really bonded," Ana recalls. "After wrap, we were having a few beers before everyone goes home, and the director and producer didn't want to leave the set. They were having such a great time that they wanted to stay back and load the trucks with our crew. It left a beautiful memory. You can see that in the final film."
"I'm so jealous," recalls Joan.  "I just got pictures from you guys all the time. But I did not even get a beer from you." Ana and Joan laugh knowingly.
Team work, Ana points out, is a critical component to a successful shoot. "We need to remember that we are part of a team. And there are other team members that we need to trust. So not everything falls on our shoulders. I have great confidence about myself in putting together good teams. If I trust my team, and they feel that I trust them, they will do a great job. So, I need to relax, trust the people I've chosen for the job."
Favorite Shoot Destination
When pressed to suggest a favorite shoot destination, the choices of our local service producers celebrate the diversity of film locations worldwide.
"We have been shooting a lot in Liverpool over the years, and we really love to shoot up there," says Pippa. "There are some fabulous locations. Many features have been shot up there. The crew is exceptional. You're getting that standard of crews that you would have in London up there as well, and we love working with people up there. If it's good enough for The Crown and Mission Impossible, then it's definitely good enough for us."
"China has a huge territory and vast landscape. But from my experience they have amazing desert," recalls Joan.  "We did a service project with Italian crew. We stayed next to the Inner Mongolia, not in Mongolia, for three weeks. It's pretty amazing to see the landscape and the people and their culture there."
"If you can take the altitude, the Atacama Desert is amazing," offers Ana. "You have geysers, white deserts, red deserts, salt flats. It's very challenging there. It's 1800 kilometers away. All  the places are managed by local, native communities. You need to be in touch with them, not at a business level but at a human level, to get into places. But the views are amazing."
Click here to watch the whole Gerety Talk.
PSN is honored to partner with the Gerety Awards in recognition of the Production Company of the Year. We know first-hand the talent and hard work they all pour into every project. We are excited to shine a spotlight on the achievements of leading production companies in USA, Brazil, Mexico, UK, Denmark, Austria, Belgium, Philippines, and Japan.
The Gerety Awards redefine advertising standards. Named after Frances Gerety, the copywriter who coined the slogan "A diamond is forever", the Gerety awards select the best in advertising through the female lens.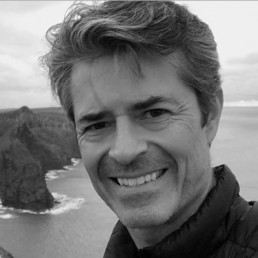 Production work on commercial, entertainment, and factual shoots for clients from around the world during more than two decades is at the core of Michael's experience. Highlights from his years managing production service budgets of all sizes for feature film, sport celebrity shoots, primetime TV programming for all major US & UK channels, and events as diverse as motocross and a papal visit.
This Los Angeles native with a traveler's soul started his own production service company overseas to share with fellow production professionals the wonders of shooting film, photo, and video projects across Spain and Portugal – the sunniest corner of Europe. Michael is as quick with a smile as he is committed to no-nonsense production workflow delivering cost-effective, quality results you can see in frame. He founded the Production Service Network in 2014 to accomplish that worldwide. He manages PSN from his base in Madrid, Barcelona, or most anywhere he has an Internet connection.