There is no undoing the Russian invasion of Ukraine. But the commercial film community is well positioned to fortify neighboring Central and East European countries by continuing to work in the region.
As their citizens open the doors to Ukrainian refugees – offering safe harbor under the protection of NATO – Central and East European production service companies are incorporating Ukraine's professionals to execute shoots displaced by the war. The work they do together depends largely on the solidarity of western brands and agencies. To keep working in countries neighboring Ukraine is to demonstrate confidence in the face of Russian aggression.
PSN-Production Service Network has surveyed its Partners across the region to counter sensationalism and propaganda with informed perspective. To share the ground truth that can only be told from the production trenches. To enable production houses, agencies, and brands to make informed decisions that can help our industry stand tall against tyranny.
We share these insights in this open letter addressed to all commercial film industry producers. And we encourage them to reach out to our PSN Partners for any additional information needed to maintain the long-established workflow from West to East.
How has safety (or the perception of safety) changed in your country since the war began?
How have your day to day operations changed since the war began?

Romania – Nothing has changed.
Lithuania – Weirdly nothing has changed except for the emotional state. We are more applied than ever and thankful that we have the resolve to work during emotionally tough times.
Hungary – Not really changed!
Czech Republic – Did not change at all. Netflix, Amazon and other US studios are shooting non-stop here. If it was unsafe they would be the first to leave.
Poland – We're working double-time as we jump between bidding on projects and volunteer work. As time has shown, we also need to reassure our clients that we're providing business as usual. We're acutely aware of the situation and our country's surroundings. But we wouldn't try to acquire projects if it were unsafe for them and us. We're responsible partners, especially in the most challenging of times.
Serbia – Business is as usual. We had a French project shot while the war was going on. We are looking to employ some people from friendly Ukrainian companies so we can help in this way.

Provide details of any company initiatives specifically aimed at assisting Ukraine and its people.

Romania – We have reached out to the people we know, our colleagues and friends, and helped specific cases as well as providing different donations or private help needed.
Lithuania – Our company is donating money as well as warehouse items which we used to store as props for our shoots. We've launched an open invitation to every industry professional who is seeking job opportunities as well as help with accommodation / transport to Lithuania or else. We're also working together with our colleagues, partners, and competitors on a database of Ukrainian professionals who fled Ukraine and are now in Lithuania. We will do the best we can to integrate them into the Lithuanian film industry.
Hungary – We help refugees as much as we can, not officially as a company.
Czech Republic – Our government supports Ukraine and the Czech people help the refugees from Ukraine. We're donating to provide accommodations, food, drink, pocket money, and work.
Poland – We're investing our time and production skills to fill the gaps. The vast amount of refugees coming to Poland, and especially Warsaw as a final or transit destination, need quite a lot of help. They are burdened with pain and sorrow. From organising accommodation to fundraisers for everyday items like toothbrushes, hygenic pads, and even small toys to give children that come to an unknown train station a small reason to smile. Apart from that we aim to recruit Ukrainian film professionals to work with us on the projects.
Serbia – We want to give some safety and economic stability to our Ukrainian colleagues so we are talking to the government to facilitate work papers. We aim to help until they can safely return to their country, but it does not look like it will end soon.

What are the most significant challenges your company faces now?

Romania – I think our geographical position and the perceived danger of war crossing our border is keeping people from travelling to Romania.
Lithuania – The main challenge we are facing since the very start of the invasion is to prove that Lithuania is as safe as ever to come and do business. Lithuania is a vibrant democracy where the rule of law is absolute, the economy is growing. It currently ranks 11th in the World Bank's Doing Business report.
Hungary – We don't see it clearly yet. The local currency (HUF) has weakened, a potential advantage for foreign productions, but it is too early to pinpoint actual challenges.
Czech Republic – Nothing but foreign production partners' worries about coming to Prague. Actually it's a very good time to shoot films in Czech Republic and it's also quite cost effective.
Poland – The biggest challenge is to change the mindset of our past and future clients. Show them that Ukraine, even though it's close, is not the same as Poland. It remains safe to work in this part of the World. The shift in mentality is essential if our business is to avoid becoming collateral damage. We can only help Ukrainians with work if our clients continue to bring it. It's not going to be a short period of conflict, the situation won't resolve in a matter of days or weeks (unfortunately!). We all need to help the displaced to sustain themselves and focus on something other than the war.
Serbia – The Russian market is gone so there is less work. That was a big part of Serbian service because they do not need visas to enter Serbia.

Can you see any upsides to the emigration of Ukrainian production expertise into your country?

Romania – We see no borders when it comes to the creative process. We are actively engaging Ukraine help in our projects.
Lithuania – Lithuania's film and advertisement industry has been growing and expanding a lot during the last decade. At peak times we have even faced a shortage of industry labor. The demand for our specialists abroad has continued despite rapid expansion at home. Ukrainians are great experts in the arena, known all around the world for their highly experienced and efficient teams. We welcome them. We are very happy to do everything in our power to integrate professionals from Ukraine into the Lithuanian film industry.
Hungary – Lots of Ukrainian industry professionals have already checked in for work. This is an upside, but the question remains if they will stay or they will go back when they can. Either way, they are a priority on our list when executing on suitable projects.
Czech Republic – There is a long working tradition between Czech Republic and Ukraine so many displaced professionals were already working here. Now we have more workers, nurses, and doctors. We help them, they help us.
Poland – ​​We're looking forward to working with Ukrainian professionals to exchange know-how and see their ways of working.
Serbia – Serbians know war firsthand. So while we have enough workforce in production as it is, we are willing to help our colleagues from Ukraine.

Can you share examples of projects that have turned away from your country due to the war? Elaborate on what went wrong, and how it can be prevented.

Romania – Only one client from Cambodia decided it's safer to go to Thailand. It's a matter of perception after all. When telling the clients that we are a NATO member state, they quickly understand that attacking any such country would mean a global war would start. And we are confident that people in the 21st century are not really willing to go through that.
Lithuania – The main issue is lack of knowledge of Northeast Europe being in the EU as well as the NATO alliance, meaning it is absolutely safe. Of course, as a nation, we are emotional and angry because we understand what kind of neighbour we have. Our governments are trying to fight the propaganda machine, however, it is an apparatus too large for our industry to be able to speak louder than the lies. Our clients take the Kremlin threats seriously even though they've been going on since the very start of our independence. Projects have turned away for what seems to us mystical 'safety reasons'. Just because we are close to Ukraine and Russia on the world map does not mean that our borders are somehow less safe than any other border in Western Europe. Russia is a threat to every single country that shows support right now, and we understand that. We are constantly working on spreading this message.
Hungary – No such experience.
Czech Republic – Nothing specific, but projects from the US, Germany and UK have halted for this reason. It's a senseless shame.
Poland – We've been crossed off the list as a potential shooting destination. I'm not at liberty to say the exact project names but this is an unfortunate result of the war. The only way to prevent it is to inform clients and agencies about the conditions on the ground in Warsaw and Poland. Poland as a country should not be a victim of the fear and disinformation that unfortunately is being spread globally from one source.
Serbia – February is usually a slow month, so the real situation will be known in spring.

Can you share any examples of projects that have remained on course? How can they give others confidence?

Romania – All local clients have kept their productions on course. After all, this is the normal spring to summer campaign time.
Lithuania – Unfortunately not, but we are still pitching successfully and we are very thankful to our long term partners who are still trying to bring their projects here to the Baltics.
Hungary – A shoot is already confirmed for the summer, but no questions or concerns came from the client-side regarding the war.
Czech Republic – As mentioned above, Netflix, Amazon and other US studios are shooting non-stop here.
Poland – Recently we have worked for a UK-based advertising agency and a global client utilising the remote shoot workflow used so widely during the pandemic. This tool is quite handy for clients that cannot overcome a fear of traveling to our region. In a way, Covid prepared us for continued work in these tragic times.
Serbia – We are only pitching at the moment. The local market is buzzing (there is filming in front of our office as I am writing this) but we are focused on foreign production service.

How are you working with clients to keep and even boost the western workflow into Eastern Europe?

Romania – We keep the conversation going and we've had quite a few projects in which Romania was a good shooting location. Clients in Western Europe as well as further west are still seeking Eastern Europe as a shooting location.
Lithuania – Spreading the news that Baltic countries are as safe as ever, keeping the budgets attractive even though the economical situation is rapidly changing throughout Europe.
Hungary – Our weakened local currency can be an advantage for foreign productions.
Czech Republic – Consistent messaging that there was no invasion here. We still have a very positive filming environment and remain cost effective.
Poland – We're focusing on sharing our perspective to accurately inform. The most even-handed of media coverage brings scary images into people's lives that make them afraid to go anywhere near the conflict. We listen to our clients' concerns and provide them with a more comprehensive picture of the actual situation to diminish their fears. Hopefully the conflict will resolve sooner and we can all be peaceful once again.
Serbia – We started being more visual. Like making video calls and sending photos of everyday life to old clients that we have known for years for them to see things are as before. Question is how normal this situation really is and how it will influence the entire world, not just Eastern Europe.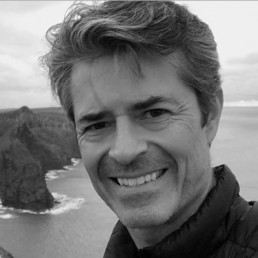 Production work on commercial, long form, and factual shoots for clients from around the world during three decades is at the core of Michael's experience. Highlights from his years managing production service budgets of all sizes for feature film, sport celebrity shoots, primetime TV programming for all major US & UK channels, and events as diverse as motocross and a papal visit.
This Los Angeles native with a traveler's soul started his own production service company overseas to share with fellow production professionals the wonders of shooting film, photo, and video projects across Spain and Portugal – the sunniest corner of Europe. Michael is as quick with a smile as he is committed to no-nonsense production workflow delivering cost-effective, quality results you can see in frame. He founded the Production Service Network in 2014 to accomplish that worldwide. He manages PSN from his base in Madrid in Spain, Madeira in Portugal, or most anywhere he has an Internet connection.