Can you hear the motor turning the chain loop that drags us upward toward another harrowing peak?  Safely seated with every precaution, we can't help feeling anxious about the unpredictable ride ahead.
Pause and reflect.  This past year has packed a decade's worth of innovative twists and turns in the production of content. Most of us feel a bit rattled, and few of us are where we expected to be.  But keep your senses about you because our industry is evolving at breakneck speed.
Live action filming makes the world go round for production service companies.  Following a successful week-long shoot in Bangkok with PSN, Warner's live action filming of the HBO Max series The Flight Attendant got back on track after the holidays to film with our team in Rome at the Fiumicino Airport as well as iconic locations like Piazza Navona, Via dei Coronari, Circus Maximus, and the Colosseum – closed by presidential decree this month due to a pandemic we could never have imagined at the beginning of 2020.
The creative entourage at Amana, working with our production support in Ho Chi Minh, had an even closer call early this year.  Filming of its Yamaha campaign in scooter-driven Vietnam wrapped only weeks before the country closed its borders for the year – averting a derailing of the campaign for the brand and the 11-strong team that traveled in from Tokyo.
TRAVEL EYES WIDE OPEN
Just as in a rollercoaster car, we're all learning where to lean for a smoother ride.
Traveling in for location filming is now feasible for many nationalities in most major film hubs.  Allowing time to process needed work permits, and sometimes quarantine, is advisable. Our boots-on-the-ground Partners keep producers up to date with their latest live action shoot status on the PSN website.
That local knowledge is critical, particularly to time-sensitive projects. Consider how an impending closure of Norway's borders last October saw a US airline and local authorities give the producer of this Oreo campaign conflicting customs arrival information.  While flying across the Atlantic, the producer took the added precaution of asking our PSN Norway Partner to urgently send a company letter validating that he and his director, DOP, and client were coming to work in the Arctic Circle. It transpired that this letter was pivotal to their entering Norway and keeping to schedule for the needed quarantine before the shoot!
PSN Norway Partner Eirik Vaage also had more familiar challenges to manage.  "We are blessed with awesome arctic scenery in Norway. Only problem was that we had to build a 7 meter long prop – a replica of the Global Seed Vault – and needed good infrastructure to transport it to the location. On an arctic island like Svalbard, solid roads are sparse. However, Norway used to do a lot of mining on Svalbard.  The coal mining industry was actually the reason why Norway developed Svalbard in the first place and there is still one mine operating on the island. The mine is located on a mountain plateau and from the road leading up there you get an awesome view of the arctic landscape. So, we secured a permit to use the road and transport the Oreo Cookie Vault to this location." The shoot wrapped on schedule and the brand released the tongue-in-cheek doomsday film to coincide with the US presidential election and a meteor threat to the earth's atmosphere!
Our PSN Partners have added travel and sanitation expertise to the array of services that keep cameras rolling safely.  Collectively we've helped the industry get back to work by sharing that know-how as the pandemic wave swept from east to west.  Results demonstrate how the local leadership of our Partner service companies has made a difference.  Our team in Jordan trailblazed the drafting of health and safety protocols with government officials to meet the expectations of film producers from South Korea.  They then implemented those safety measures so the country could re-open in spring to welcome a cast and crew entourage of 98 for 5 weeks filming of the feature Bargaining.
REMOTE SHOOT REVOLUTION
In this same bumpy year, some creatives are jumping tracks to embrace remote shooting.  To film the recently released ISS Experience in outer space for Time Studios before the pandemic, our Canada Partners pioneered a workflow and remote signal system.  Creatives are now working remotely with our PSN Partners across earth to execute films that don't even look remote, like this one in Iceland for HP.  We've effectively passed through a time warp tunnel.
The wide adoption of remote shooting executed by PSN Partners is laying new track that bridges pre-pandemic obstacles.  How else might three directors connect simultaneously to film scenes for this Coca-Cola campaign with our Partner in South Africa?
PSN South Africa Partner Vivian Esterhuyse elaborates.  "We filmed for one and a half remote days in Cape Town. It was quite a run-and-gun unit, which at the time (shortly after an initial easing of lockdown) made permitting easier.
"The communication with the directors was a challenge, especially as this was our first remote shoot, and of course great lessons were learned in that respect which have come in handy on subsequent jobs. Having a well-established relationship with the directors from previous jobs certainly helped!  All-round it was a great project to be a part of and bridge our way into the remote jobs to follow." 
Connectivity to major film hubs is now possible with negligible latency.  PSN China producer Tiger Cheng underlines that every second counts when working with celebrities like actor Shawn Dou for this Canada Goose campaign:
"The biggest challenge was client management of the celebrity talent's limited time.  Despite downtime as talent was moved for the capture of different assets, we got the shots we needed for the film.
"We had a direct communication link from director (remote in London) to DOP (onset in Shanghai).  Our livestream setup had very low latency.  Still, you notice the lack of director's physical presence on set.  Smooth communication was the key to success."
Creatives no longer need to change countries, and often time zones, to film with their brand ambassadors.  Knowing the production was in good hands, some agency personnel opted out of travel and watched from Poland as our PSN UK team executed this XTB campaign with Jose Mourinho in London.  ''We are proud to have provided a completely contained and safe space for 80 people during such challenging times," says PSN UK EP Michelle Stapleton. "Receiving a message from Mourinho's management team thanking us for one of his best days on set was the icing on the cake."
Local industry is further adapting to the needs of foreign projects.  So long as the brief allows, shoot hours in more than a dozen film hubs can adapt to the client production house, agency, studio, or brand schedule at no added cost.  Trust in local production service to facilitate informed decision-making and successfully manage every production detail – not to mention celebrity expectations – is fundamental to increased use of a technology that can help contain costs and reduce our industry's carbon footprint.
REMOTE FROM THE REMOTE
With preparation, remote streaming can transport filmmakers to locations unimagined at the flip of a switch.  Video conference calls between Rocket Film director Klaus Obermeyer and our teams kept all on track behind the scenes during remote shooting of the Free Range Humans series recently released by Corona Studios.   Obermeyer conducted in-depth interviews with a woman surfer in Brazil and a jungle engineer in Colombia in their native language via a streamed signal.  He then selected a local DOP to execute his vision of each personal voyage while PSN Colombia producer, María Ximena López, prepared the unexplored terrain for filming.
"We didn't have wifi in the middle of the jungle. We only had wifi in some specific points of the lodge which we used for streaming the interview," says López.
"Pandemic travel restrictions prevented public access to the location where we aimed to film. We got help from the community, the local authorities and Cormacarena to arrange access once we'd completed testing 24 hours beforehand.  It was all well worth it to film in one of the most beautiful locations of Colombia without tourists in frame."  
Flawless execution of such unique opportunities on the basis of an elaborate shot sheet is helped along by familiarity.  Creatives leading this project for agency Pereira O'Dell had worked with the DOP and members of the PSN Colombia team before.
A surprising turn for our industry has further shifted the weight of some storytelling to strategically-based directors.  Remote streaming and all else required to film scenes and shoot stills in Los Angeles with pro golfer Paul Casey were facilitated by our PSN USA East-West Partner Eric Brown.
"The team in Gemany shot most of this Porsche campaign in Hamburg and then it was up to a local crew in LA to capture the rest of the assets for the TV commercial, online content and stills," explains Brown.
German director/photographer (and musician) living in Los Angeles, "JoJo" Zunke, led the local effort streamed to Germany using Zoom and MS Teams.  Brown notes, "it was interesting being on set without the director, international producer, agency and clients.  It showed a few efficiencies with this new way of working, notably the ability to focus on framing."  
MORE CREATIVE WORKAROUNDS
Release of the Libresse Womb Stories campaign during the pandemic upped the creative G-force of change with a loop the loop weaving together cutting-edge animation and live action filmed with our Partners in Spain.  Award-winning director Nisha Ganatra helmed this innovative project produced by US production house Chelsea.  More creatives burdened by lockdown restrictions have turned to animation inspired by such masterful execution.
The year 2020 has been a ride like no other.  Tugged toward the top of another lift hill, a momentary pause to reflect reveals the resilience of our filmmaking industry and the pivotal role live action filming worldwide continues to play in sometimes unimaginable ways.  We're grateful for the opportunities.
Did you feel the chain release our train?  Keep those seatbelts on, senses alert, and hang tight!  The ride ain't over yet.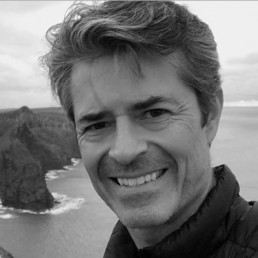 Production work on commercial, long form, and factual shoots for clients from around the world during three decades is at the core of Michael's experience. Highlights from his years managing production service budgets of all sizes for feature film, sport celebrity shoots, primetime TV programming for all major US & UK channels, and events as diverse as motocross and a papal visit.
This Los Angeles native with a traveler's soul started his own production service company overseas to share with fellow production professionals the wonders of shooting film, photo, and video projects across Spain and Portugal – the sunniest corner of Europe. Michael is as quick with a smile as he is committed to no-nonsense production workflow delivering cost-effective, quality results you can see in frame. He founded the Production Service Network in 2014 to accomplish that worldwide. He manages PSN from his base in Madrid in Spain, Madeira in Portugal, or most anywhere he has an Internet connection.