'Tis the season for long shoot days and warm weather down south.
The payoff is on screen and in the details of the projects producers have shot with our PSN Partners in Africa, Oceania, and South America.
We've collected a few of our Partners' favorites to share for a little inspiration.
South Africa delivers…
1. Reduced costs – the currency has recently weakened resulting in production cost savings on top of package talent deals.
2. Varied and dramatic landscapes – Imagine it, and you're likely to find it here.
3. Superb local crew, stunt masters, and special effects artists – with skills honed to please Hollywood expectations.
Click to view Le Petit Marseillais | Close Up
A film requiring a warm, sunny Mediterranean summer feeling… in February. The Western Cape, with its Mediterranean climate and vegetation, was deemed the perfect place to capture hints of the south of France both visually and architecturally thanks to expert help from PSN South Africa.
Australia delivers…
1. Range of multicultural talent – all ethnicities, genders, and ages on hand to help bring your vision to life.
2. Innovative technology – veteran operators skilled with the latest tech at your disposal.
3. Full government and industry support – broad range of facilities, networks, and service providers tailored to the industry.
Click to view Gatorade | Bring The Heat, Nothing Beats Gatorade
Australia was the obvious choice for this Hoffman Brothers campaign. Filmed in the sweltering Australian summer with support from PSN Australia, the climate brought authentic heat to this thirst-quenching spot.
New Zealand delivers…
1. Drone-friendly laws – film your wildest ideas by getting any shot from any angle.
2. Hassle-free importing – including vehicles, making clunkier shoots a breeze.
3. Unique facilities – state-of-the-art photo studios, massive sound stages, deep dive tanks, and a green screen-walled ocean horizon tank take your production to the next level.
Click to view Feldschlösschen | Generations
German production company Markenfilm brought Switzerland's biggest brewery, Feldschlösschen, down south to shoot the Swiss Alps in summer — easy for PSN New Zealand to arrange in frigid January.
Chile delivers…
1. Flexible talent rates and non-mandatory buyouts – Daily talent fees tailored to suit agreements job-to-job. Buyouts only paid to talent who appear in the final edit – a distinct advantage for projects with a lot of vignettes and talent.
2. Varied location proximity – Shoot scenes in the city, on the coastline, and in the mountains all within a single day.
3. Range of architecture – a large array of both classic and modern architecture can help enhance your visuals.
Click to view Max | Boost
Producers replicated sunny, surfer-friendly California with help from PSN Chile for this coffee commercial in order to reduce costs and enjoy warmer weather during the northern hemisphere winter.
Brazil delivers…
1. Significant savings – local crew, transport, locations, and general production expenses can be 30-50% below the US equivalent
2. Massively diverse – fill your cast with people from all places, including German, Arab, African, Portuguese, Italian, Swedish, Spanish, Polish, Jewish, and indigenous people.  Did you know that Brazil is also home to the largest Japanese community outside of Japan?
3. Diverse locations – from its desert lakes to Amazon forest, modern cities to historical towns, tropical beaches to vast canyons the range is unparalleled.
Click to view Tena | Designed to Disappear
TENA escaped a freezing UK winter to find guaranteed sunshine and great casting with PSN Brazil. Rio de Janeiro was eventually locked in as the final choice for the three-day shoot across various parts of the city during mid-February.
Uruguay delivers…
1. Convenient infrastructure – shoot-friendly and service-oriented, with fast permit processing and easy movement around the country.  Drone usage and street closure are more readily accomplished here than elsewhere.
2. Adaptable locations – Design and architecture with rich and varied heritage can double for other cities and regions, especially those in Europe
3. Financial oasis – comfortably affordable compared to some neighboring South American countries, where costs are rising
Click to view Carlsberg | La Révolution
An alternative take on the French Revolution that could only be set in Paris, but not in the dead of winter!  The production schedule prompted producers to search the globe before honing in on Montevideo and its neoclassical architecture and flexible permitting as the ideal double for the Parisian capital with full production service by PSN Uruguay.
Argentina delivers…
1. Experienced local crew and talent – the top tier of Latin America where a "high-standards" shoot can be accomplished thanks to an international crew of well-trained professionals, many with decades of experience.
2. Contrasting locations – distinctly their own with unique natural and architectural features making for lovely visuals that can also be transformed into other cities and countries on a whim.
3. Competitive production costs -– Local inflation and a new tax on production are counterbalanced by a dramatic drop in the Argentinian peso, keeping shoots reasonably accessible.
Click to view Caprice des Dieux | La Rencontre
The vaquero — or cowboy — horseback rider talent pool was a plus for authenticity, but it was the sun that drew producers for a taste of the old west served up by PSN Argentina during the northern hemisphere winter.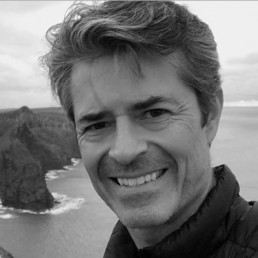 Production work on commercial, long form, and factual shoots for clients from around the world during three decades is at the core of Michael's experience. Highlights from his years managing production service budgets of all sizes for feature film, sport celebrity shoots, primetime TV programming for all major US & UK channels, and events as diverse as motocross and a papal visit.
This Los Angeles native with a traveler's soul started his own production service company overseas to share with fellow production professionals the wonders of shooting film, photo, and video projects across Spain and Portugal – the sunniest corner of Europe. Michael is as quick with a smile as he is committed to no-nonsense production workflow delivering cost-effective, quality results you can see in frame. He founded the Production Service Network in 2014 to accomplish that worldwide. He manages PSN from his base in Madrid in Spain, Madeira in Portugal, or most anywhere he has an Internet connection.