Nothing beats a familiar face in a strange land.  No surprise then that local production service management is a top reason for the success of overseas shoots. That's just one determination from the first PSN industry survey of content creators working in foreign countries.
We conducted this PSN online survey during May-June 2018 to check the pulse of our fast-evolving industry.  We aimed to identify the priorities of producers as they strive to deliver more for less.
The producers reaching out to us with their projects daily seek an edge over the competition.  They're hunting down the best value for the money.  But our survey also indicates that creative forces – particularly drawn to unique locations – can change their course.  A world of options backed by vetted production service management is what they find in the local knowledge of PSN Partners.
We work with producers to determine where they'll get the best creative results for their budget. It requires a transparent dialogue built on trust and focused on results.  The rewards are dependent on the depth of cooperation. The details in the production brief we receive at PSN will determine just how helpful we can be.
Looking back on the first half of 2018, we're thankful for the confidence US producers at MJZ, Sweatpants Media, Cultivate Media, and Greenpoint placed in PSN to produce films for Bacardi in Dominican Republic, Toyota in Mexico, Belize Tourism Board, and LG in Poland respectively.  There's more work to be released soon for campaigns shot with The Mill+ in Romania, Alkemy X in The Netherlands, MPC in Canada, and Matte Projects in UAE and Singapore. PSN Partner support in Singapore, China, Turkey, France, and Spain is also paving the way for the Sibling Rivalry production of a global campaign.
Producers shoot worldwide with the confidence of local support thanks to PSN boots on the ground.  Oxygen Singapore relied on our local knowledge to produce a Pharma campaign in UAE + casting assist from Colombia.Toyota.
There were also a MediaMonks production for Cass in South Korea and a Valentin&Byhr film for Volvo in Poland.  Our Partner in Brazil serviced shoots featuring star footballer Neymar for Oppo and TCL with China production houses Steam and Red Horse respectively.
Connecting producers worldwide to the best fit for an overseas shoot is a recipe for success that keeps them coming back.  LA producers of marketing deliverables for Netflix Originals have now called on PSN shoot support in strategic markets on three continents!  This project in Spain for the launch of the series Elite is amongst the latest of a half dozen shoots wrapped this year.
PSN recently worked with South Korean producers of a dramatic TV series to find a train station in Eastern Europe to suit elaborate fight scenes.   PSN Hungary provided local service.  Meantime, Japanese producers at Cine Bazaar filmed scenes of an upcoming feature film with PSN Mexico while Conspiraçao captured the essence of Paris for a Brazilian feature with support from PSN France.
There's a bond of trust that grows with each successful wrap.  Our below-the-line assistance is at the very foundation of the creative results.   Producers and directors are reliant on our people from the moment they step off the plane.  No wonder those responding to our survey credit local production service management and local crew more than most anything for their satisfaction with the results in camera and behind the lens.
While disruption may have been the buzzword at Cannes Lions 2018, I'm betting on cooperation with overseas shoot support to form new and stronger bonds in our people-oriented industry.  We'll do it a whole lot better working together.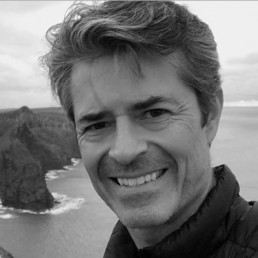 Production work on commercial, long form, and factual shoots for clients from around the world during three decades is at the core of Michael's experience. Highlights from his years managing production service budgets of all sizes for feature film, sport celebrity shoots, primetime TV programming for all major US & UK channels, and events as diverse as motocross and a papal visit.
This Los Angeles native with a traveler's soul started his own production service company overseas to share with fellow production professionals the wonders of shooting film, photo, and video projects across Spain and Portugal – the sunniest corner of Europe. Michael is as quick with a smile as he is committed to no-nonsense production workflow delivering cost-effective, quality results you can see in frame. He founded the Production Service Network in 2014 to accomplish that worldwide. He manages PSN from his base in Madrid in Spain, Madeira in Portugal, or most anywhere he has an Internet connection.