It takes the raw, natural beauty on display in locations across Iceland to inspire creatives to shoot in this rough landscape most any time of year.  Producer Beggi Jonsson has seen them come from around the world.  We caught up with him during a tranquil soak in the country's thermal pools to learn more.
Q: What reasons top the list of why producers shoot projects in Iceland?
A: Producers and directors choose to film in Iceland to capture the extraordinary and diverse landscapes. There are incredibly diverse "out of this world" filming locations within a short driving distance of one another. For example, magical waterfalls, black sand beaches, mossy lava fields, glaciers and glacial lagoons can all be visited in the same day! Along with its intense natural beauty, Iceland provides a tax incentive of 25% on qualifying productions with an easy and straightforward process. Not to be forgotten are some of the most experienced local crews in the world thanks to their frequent work on Hollywood blockbusters and international large-scale projects that include TV series and commercials.
Q: Does Iceland have any tricky production requisites we need to know about?
A: Acquiring permits and permissions is smooth sailing when working with a local company like ours.
We always recommend our clients dress for harsh weather conditions, no matter the season but this sort of gear can also be rented through local vendors. Local equipment rentals have you covered with top of the line cameras, lenses, lights and grip but should you wish to bring your own equipment it's no problem as long as you acquire the appropriate ATA carnet for your safe return to home.
Q: What is the best season to shoot in Iceland?
A: The best season for filming in Iceland depends on the lighting conditions your project requires. During the summer months of May-September one can expect almost 18 hours of sunlight and long hours of magic hour lighting conditions. Having glaciers all year round has its benefits since we can shoot "winter" scenes with snow during the summer. During the winter months, our daylight goes as low as four and half hours but this is ideal for producers seeking darker and colder settings.
Q: What makes Iceland stand out when it comes to shoot locations?
A: You will not find any place in the world with locations like ours; it's truly otherworldly.  No wonder Hollywood producers come here for scenes set on other planets! A truly stunning feature is the easy access. A 20-minute drive will take you to a completely different environment, for example from Reykjavik to lava to mountains to volcanoes to black sand beaches to glaciers. The country can replicate many different locations in this world as well as other worlds and planets.
Q: What are Iceland crew known for?
A: Many foreign producers comment on is how well the Icelandic crews work together, how friendly and inviting they are and how well they understand the needs of their clients. Due to the relatively small size of the population you soon realize that the crew members have worked together on hundreds of projects and know the filming locations and terrain like the back of their hand.
Q: Does a DOP need to travel in, or do you have great ones with reels to present?
A: We're very proficient at assisting visiting DOPs with our experienced local crews. However, we do provide a range of highly professional DOPs in Iceland that shoot for major international brands and producers. These DOPs are veterans at working on location in Iceland's often harsh conditions.
Q: How well does everyone speak English in Iceland?
A: Everyone in Iceland speaks English! The three most common languages are Icelandic, English and Danish.
Q: What local delicacies or traditions might visitors enjoy during their stay in Iceland?
A: Everything from food to sightseeing and music! The cuisine can be as familiar as fresh seafood or as unique as puffin, sheep heads and fermented shark. Sightseeing is all in a day's work. When filming here you only need to look around you to take in the beauty of Iceland's nature.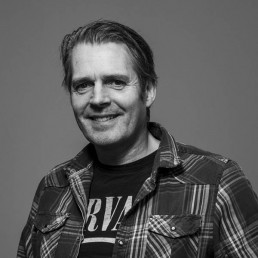 Beggi Jonsson puts 25 years film industry experience at the helm of PSN. During work as location manager, production manager, and producer, he's accrued credits including Game of Thrones, Fortitude, and the recent TV series co-production, Thin Ice. Beggi ensures smooth execution of production services and remote production (RPS) across Iceland and Greenland.