Necessity is the mother of invention. So no surprise the team at PSN China has already implemented a solution that keeps live action film production on track overseas despite the pandemic.
For a commercial shoot in New Zealand during early March, China's lockdown prevented the client and agency from traveling in. Our team built a private video-grade wireless network allowing mobile phones, tablets, cameras, and computers to synchronize and stream live HD video. At a time when so much is untouchable, their "Cloud Shooting" solution puts all the players in touch on set.
We've long moved from theory into practice. The added responsibility of executing remote film production is nothing new to our Partners. That capacity is of urgent importance to producers aiming to film live action in countries where the cameras continue to roll.
Scenes of the 2016 feature film, The 5th Wave, were directed via a Skype connection with the crew at PSN Thailand. Now it is PSN Germany that is developing an optimal remote production workflow for overseas client, agency, and director in response to part of a commercial campaign featuring German talent who is hesitant to travel in these times.
The complexity of the briefs goes beyond pickup shots traditionally delegated to 2nd units. Trust in PSN Partner expertise to deliver more elaborate filming requirements reveals a trend that is more than a temporary work around amidst Coronavirus/COVID-19. Consider how director Alex Winter was not on set when the PSN UK team executed local filming for his documentaries, Deep Web, Trust Machine, and The Panama Papers. Ferras Fayyad directed our UK Partners remotely during the filming of London scenes in his 2020 Oscar-nominated documentary, The Cave, for National Geographic.
The Technology Leap
Facetime and Whatsapp are cheap and easy options that are readily available and easily deployed for two-way communication that puts the stakeholders on location. They can stay up to date with latest changes, keep track of schedules, and even discuss shots in real time.
For those demanding a more sophisticated "virtual presence" with low latency, the tech is in place for robotically-mobile HD cameras on set that are equipped with pan, tilt, and zoom. On-set collaboration facilitated by the QTAKE Monitor 2 and QTAKE Server has meantime brought browsing, playback, and collaborative metadata editing to any number of iOS devices on set using a local server or even anywhere in the world using a server running in the cloud. The future of remote film production really is now.
The Mentality Leap
PSN and its boots-on-the-ground Partners in 50 countries share best-practices intel on remote film production solutions. Health and safety considerations are top priority. We employ our knowledge from the production trenches worldwide to ensure producers can continue to meet film production needs where feasible. It is just one way our worldwide network provides unparalleled support to the clients that seek our guidance. We understand resistance to change. Each of our Partners is at the ready to walk our clients through locally available solutions that we're using to resolve concerns about not being on set.
This pandemic is a catalyst for change more profound than those before it. Remote film production saves time and travel costs in ways long overdue amidst mounting industry pressures to produce more with less and to reduce our carbon footprint.
News reports of productions being stalled or kept at home are making headlines. The untold story is how trusted production service companies are helping solve production challenges abroad for the shows that must go on.
The tight turnaround of commercial projects is compelling producers of that genre to forge ahead more quickly than most and rely on remotely streamed casting, callbacks, wardrobe fittings, and tech scouts as well as location filming. This virtual presence is not exclusively for marketing teams and agency.  There are projects where producers and non-traveling directors are patching in as well.
PSN Partners are experienced at remote film production of all sorts. After all, we producers are all problem solvers who understand the individual difficulties of each project require careful study before determining the best approach in each case. Shaping development discussions these days are new health and safety considerations that we're tackling with the familiar challenges of balancing the creative with available budget.
Remote Work Before the Pandemic
Our confidence at executing remote film production comes from experience. PSN Partners have recently shot segments of films for clients like Disney, Cisco, Expo2020, and Domino's Pizza without any virtual connection on location.
PSN Australia produced an internal video last year that features Domino's employees in action down under and in Europe. The film director helmed the shoot in Australia but never traveled nor connected via live-link during remote filming. Instead, she presented the Aussie shoot as a model to be replicated by PSN Netherlands in Amsterdam, Brussels, Paris, and Berlin. The approach worked well because the 'videoclip' brief called to capture similar shots in each country. But if the film called for more nuanced acting, our local Partner would be the first to flag that results could come up short of expectations.
The decision to shoot remotely or not, and how to go about it, is ideally an integral part of the conversation from idea development, and certainly from the moment there is any inkling to shoot abroad. We are the production Partner bringing local ground truth to that dialogue.
When executing remotely without director or agency/client on set, anticipation is an operative word. Havas London reached out to PSN China in 2016 to execute a film that formed a part of a global Chivas campaign profiling entrepreneurs.
The producer at Havas London provided an elaborate bible outlining content parameters (style, length & tech specs) as well as a script of questions that were shaped in advance with the entrepreneur. The answers were cut together to form the narrative.
At the foundation of such collaborations is a trust in our PSN Partners' expertise. Consider this commercial film for the luxury fabric firm Dormeuil. Agency Air Paris called on our PSN Argentina team to capture the footage in Patagonia without previous scouting or a script. Their mission was to showcase the brand's commitment to the environment and animals in its production of "Tonik Wool". Three shooting days, five farmhouses, and a few hours less sleep were worth the immersive results.
Timetable disruptions remain an inconvenience for those connecting in real time across time zones. Another challenge is the lack of connectivity in extremely remote locations. PSN Iceland determined that 2nd unit filming in Greenland was the best approach for shots necessary to its co-production of this year's TV series Thin Ice. 
In order to produce this film on a remote oil rig for IBM, the Barbarian Group adapted to extreme access limitations by leaving its director in New York, deciding to only send an agency producer to film with a local Director-DoP and three more crew from PSN Australia.
Foreign directors relying on a local DoP they know, or that at least makes a good match with them and the project, is one approach gaining momentum.  Implementation involves engaging the local DoP in early production stages so the DoP becomes a natural extension on set of the remote director.
The Egyptian director of this McDonald's commercial released across MENA last year relied on our PSN UK crew and their local DoP to execute the scenes filmed in London. He connected remotely from Cairo along with the client and Leo Burnett staffers managing the campaign from Dubai.
We've come a long way since telecommuting met pop culture in the 90's, and Microsoft told us that "Work is something we DO, not a place that we GO." The practicality of remote film production is increasingly evident in requests made to PSN Partners that involve no client travel; from a leading streamer presently arranging for PSN France to film aerial and street-level establishing shots in Paris to a global consumer goods corporation in New York exploring director-driven live action filming with PSN Mexico, UK, or Czech Republic.
The more success we demonstrate at executing remotely for our clients, the more confident we can be that many businesses may never look back.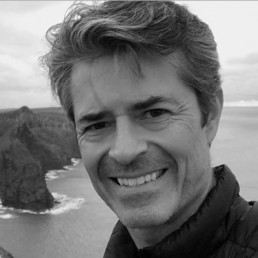 Production work on commercial, long form, and factual shoots for clients from around the world during three decades is at the core of Michael's experience. Highlights from his years managing production service budgets of all sizes for feature film, sport celebrity shoots, primetime TV programming for all major US & UK channels, and events as diverse as motocross and a papal visit.
This Los Angeles native with a traveler's soul started his own production service company overseas to share with fellow production professionals the wonders of shooting film, photo, and video projects across Spain and Portugal – the sunniest corner of Europe. Michael is as quick with a smile as he is committed to no-nonsense production workflow delivering cost-effective, quality results you can see in frame. He founded the Production Service Network in 2014 to accomplish that worldwide. He manages PSN from his base in Madrid in Spain, Madeira in Portugal, or most anywhere he has an Internet connection.