In an industry built on teamwork, Heads of Production can sometimes feel a bit lonely.  Under ever-shrinking lead time, they're shouldered with delivering the details on the best production approach available…ANYWHERE.  Who could blame them for reaching out to the usuals – gathering estimates from production service companies in the same old countries without exploring alternatives that may be more suitable?
There's no room for business as usual in an ever more competitive industry.  No single producer, let alone company, has 100% of the latest local knowledge worldwide to determine the best place to shoot.  And disregarding alternatives outright leaves the door wide open for someone else to propose a location that better fits the brief.
No one is immune.  I've seen top dogs lose an award to a scrappier competitor who did its homework.  So I can't hide a knowing smile when sitting down with producers from LA to London, Paris to Tokyo, who ask what countries are the latest hotspots to shoot.  There is no one answer.  But I have made it my business to find out for each brief.
At the helm of PSN-Production Service Network, it is easy for me to spot how producers' knowledge about specific countries can very quickly become outdated and distort the decision of shooting in any given one.  Even the best multi-tasking producers are challenged to keep up on the latest exchange rates, work visas, local taxes, and regulations where frequent changes can tip the scales when deciding where to shoot.
For example, more than a weakened Australian dollar is behind renewed interest at shooting with the PSN Australia Partner.  Brisbane crew working on standard 10-hour days, as compared with 8-hour days in Sydney, channel more work to their production hub in the Gold Coast city.  The regular flow of work to the PSN South Africa Partner has gone unabated thanks, in part, to its diligently ensuring clients allow time to complete the work visa requisites adopted in 2015.  PSN India has demonstrated skill at fast-tracking work visas required for its clients, but industry impact of a Goods and Services Tax adopted this year remains to be seen.
A one-day turnaround for US citizen work visas in Brazil is the latest move making it easier to shoot in a country where visas are not even required for EU and UK passport holders.  But misinformation exacerbated by price hikes during the Olympics hosted in Rio lingers and can still cloud a producer's judgment.  With its focus on production service, PSN Brazil continues to budget competitively compared with neighboring LATAM production hubs.  And the team is quick to point out that there are no taxes – or requisite to involve a Brazilian co-director – on TV commercials shot in its country unless the commercial is broadcast in Brazil.
Union regulations applicable to signatory companies in the U.S. prompt many American producers to shoot overseas.  Foreign producers aiming to shoot in emblematic locations like Los Angeles or New York often consult with the PSN USA East & West Partner about how those rules governing crew and talent hire will impact their shoot.  The complexities involved make it worth careful study on a case-by-case basis.  No one wants to face-off with local union reps shutting down a non-union shoot on location.
Over in the production hub that is Miami, our PSN USA Florida Partner has a similar outlook.  A 'Right to Work' state status there isn't necessarily the panacea that the name suggests. Nevertheless, Miami doubles as a strategic launch pad providing top-drawer crew and gear for shoots across the Caribbean in island destinations like the Bahamas, where local offerings are very limited.
Talent union demands in Argentina wiped that country off the map for many foreign commercial producers some years ago.  While mandatory buyouts keep the country from competing for commercials with multiple versions requiring worldwide buyouts for loads of talent, the PSN Argentina Partner can make a competitive offer for projects needing a handful of talent with buyouts for a reduced number of countries.
The Argentine government has meantime taken a film-friendly turn by no longer applying 21% VAT to hotel bookings paid with a foreign credit card.  It has also instituted a fast clearance system for temporary car importation.  And the permit process requiring just 6 working days makes blocking off Buenos Aires' diverse streets during the weekends rather easy.
As always, producers who know the full parameters of their brief are in the best position to research and present such alternatives to the industry's most discerning clients.
Not to be overlooked by producers is ensuring that the local service provider complies with its own national legislation.  The risk of not doing so can compromise the interests of a multinational client operating in the country. To defend the production service industry in Spain against illegal and unethical competition, top-tier service companies are working together to ensure adherence to a new interpretation of labor laws.  For a quality guarantee, I caution foreign producers to contract companies like the PSN Spain Partner that are certified by AENOR, accredited in compliance with ISO standards, and partner of IQNet.  After all, upholding such professional standards made the Spain Partner amongst the first to successfully complete the incentive audit cycle and receive Spain's new tax rebate for servicing a feature film.
Still, PSN Romania cautions producers fixated on soft money alone to prioritize the actual film location called for in a script.  Low production costs in their country can be more beneficial and immediate than a newly adopted incentive program.
I founded the one-stop shop at PSN-Production Service Network to get quick and easy answers to producers by connecting them directly to boots-on-the-ground Partners in more than 40 countries. I vetted each of the Partners personally to provide the up-to-date knowledge that helps producers build a better bid.  No added cost and no middlemen.  It is a win-win formula that positions PSN Partners to deliver top-tier shoot support to an increasing number of producers who tap into the resource.  After all, knowledge is power.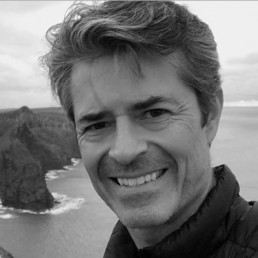 Production work on commercial, entertainment, and factual shoots for clients from around the world during more than two decades is at the core of Michael's experience. Highlights from his years managing production service budgets of all sizes for feature film, sport celebrity shoots, primetime TV programming for all major US & UK channels, and events as diverse as motocross and a papal visit.
This Los Angeles native with a traveler's soul started his own production service company overseas to share with fellow production professionals the wonders of shooting film, photo, and video projects across Spain and Portugal – the sunniest corner of Europe. Michael is as quick with a smile as he is committed to no-nonsense production workflow delivering cost-effective, quality results you can see in frame. He founded the Production Service Network in 2014 to accomplish that worldwide. He manages PSN from his base in Madrid, Barcelona, or most anywhere he has an Internet connection.