We have a European solution to the challenge of producing cost-effective shoots in some of the most expensive countries on the Old Continent.  Our Production Service Network (PSN) has successfully serviced shoots in Austria with crew and equipment from neighboring countries.
Shooting a series of promos for cinematic release during the production of medieval reality adventure The Quest prompted Disney-owned ABC Television to find local production services that could meet its ambitious brief to shoot on Arri Alexa with a TV budget.
I got the call to line produce, and rather than try to trim the creative down, I coordinated PSN crew and equipment from the Balkans to shoot at the real-life castle set outside Vienna.  And it was a good thing we did.  The shoot days with ABC Producer Larry Hart were packed with behind-the-scenes interviews at all hours that narrate the promos.  Between the interviews with show producers and creatives, our team also shot exclusive footage demonstrating the production resources put to work to create the immersive fantasy realm where The Quest takes place.  It took three long days to complete the shot sheet wish list.  And we still came in under budget!
Capturing the charm of Austrian cities Vienna, Linz, Salzburg, and Dürstein was key to the brief of a promotional film for Australian APT Tours.  And it was the PSN partner based in Hungary who managed local production and location support all along the river cruise running from Hungary through Austria to Germany.  PSN was uniquely positioned to offer Australia's Mr. Smith Producer Helene Nicol the continuity of one local partner as well as the local support in other countries as needed.  The success of that shoot led Mr. Smith to call on PSN to provide reliable referrals to local partners for similar shoots in Canada and Vietnam.
Nicol observed, "Your standards and selections have been great!"
Trusting in our criteria made Austria a realistic, lower cost alternative for a commercial car shoot for leading India tire manufacturer Madras Rubber Factory (MRF).  Producers from BWP Totem first called us to produce their two-day shoot on mountain roads in Spain.  But we didn't hesitate to suggest the Alps when we learned the available shoot budget would better fit Eastern European production costs.
Producer Raja Menon recalls, "We settled on Michael and his team because the honest, no-nonsense feedback made us feel most comfortable.  They came up with solutions to work within our budget."
Our solution involved location scouting with a sharp sense for roadway shots that would culminate in an Alpine love affair between the creative brief and available budget. The competitive cost of crew and equipment from the Balkans made it all possible.
Our Hungary-based PSN partner is back on location in Austria next month to shoot a cinematic milestone with producers from Los Angeles.  Look for them to share the story in a future blog once the production is released.
If you haven't already, click on the links above to view the films.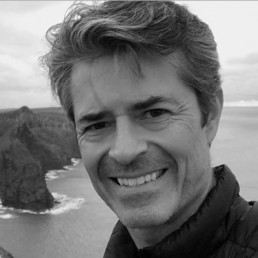 Production work on commercial, entertainment, and factual shoots for clients from around the world during more than two decades is at the core of Michael's experience. Highlights from his years managing production service budgets of all sizes for feature film, sport celebrity shoots, primetime TV programming for all major US & UK channels, and events as diverse as motocross and a papal visit.
This Los Angeles native with a traveler's soul started his own production service company overseas to share with fellow production professionals the wonders of shooting film, photo, and video projects across Spain and Portugal – the sunniest corner of Europe. Michael is as quick with a smile as he is committed to no-nonsense production workflow delivering cost-effective, quality results you can see in frame. He founded the Production Service Network in 2014 to accomplish that worldwide. He manages PSN from his base in Madrid, Barcelona, or most anywhere he has an Internet connection.