The makers of Indonesia's leading tobacco brand, Sampoerna, touched down in Madrid this summer for a smoke-free commercial production that would leave Jules Verne's head spinning.  More than 50 years after makers of the classic film adaptation to Around the World in 80 Days featured a village outside Spain's capital city, producers from The Sweet Shop and Lynx Films called on our Production Service Network (PSN) in Spain to achieve a sort of flipside – shoot scenes from around the world in 80 hours.
One small act on a tabletop in an Indonesian café sets in motion a string of lifestyle scenes of mounting grandeur to promote Sampoerna's A Mild.  German Director Mario Zozin latched onto this motivational concept for the Connected campaign of Indonesia's popular cigarettes.
Determining where to shoot the global idea on a calendar and budget suitable for one film-friendly city was a primary consideration.  Bates Chi & Partners Agency Creative Director Iyan Susanto notes, "A commercial with scenes from 6 continents needs ethnic diversity.  We knew we could find it in Europe."

The Sweet Shop reached out to PSN with its sights set on Eastern Europe for the three-day shoot.  But following an early study of the required casting diversity and storyboard scenes, an assessment of the available budget determined Turkey and Spain could fit in under the bar to better offer the range the director envisioned.  Further study of location references soon convinced Zozin that he wanted to shoot in Spain.
"We looked at deserts, highways and waterfalls in many places, but the cinematic scale of each in Spain added the depth that made all the difference," said The Sweet Shop director.
First-time visitors to Spain were pleasantly surprised it could fill the brief calling for an Indonesian café, African artist's studio, US airfield, South American natural pool, East Asian office towers, Australian highway, and Scandinavian pool party.

"The logistics were so compact here in Spain," says Lynx Films Executive Producer Rob O'Hare.  "From our base in Madrid we've shot around the world."

Perched atop a backwoods location to film a 12-meter cliff jump, The Sweet Shop Executive Producer, Claire Davidson, expressed gratitude for a hard-working crew and well-managed location scouting that eventually brought this shoot with global ambitions to Spain.  "We really appreciate it."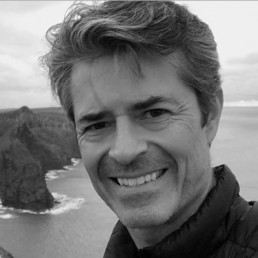 Production work on commercial, entertainment, and factual shoots for clients from around the world during more than two decades is at the core of Michael's experience. Highlights from his years managing production service budgets of all sizes for feature film, sport celebrity shoots, primetime TV programming for all major US & UK channels, and events as diverse as motocross and a papal visit.
This Los Angeles native with a traveler's soul started his own production service company overseas to share with fellow production professionals the wonders of shooting film, photo, and video projects across Spain and Portugal – the sunniest corner of Europe. Michael is as quick with a smile as he is committed to no-nonsense production workflow delivering cost-effective, quality results you can see in frame. He founded the Production Service Network in 2014 to accomplish that worldwide. He manages PSN from his base in Madrid, Barcelona, or most anywhere he has an Internet connection.